True Romance (Limited Edition): 4K UHD Review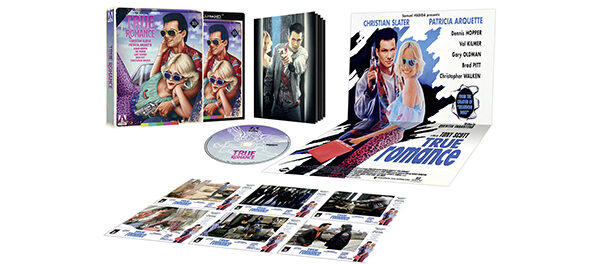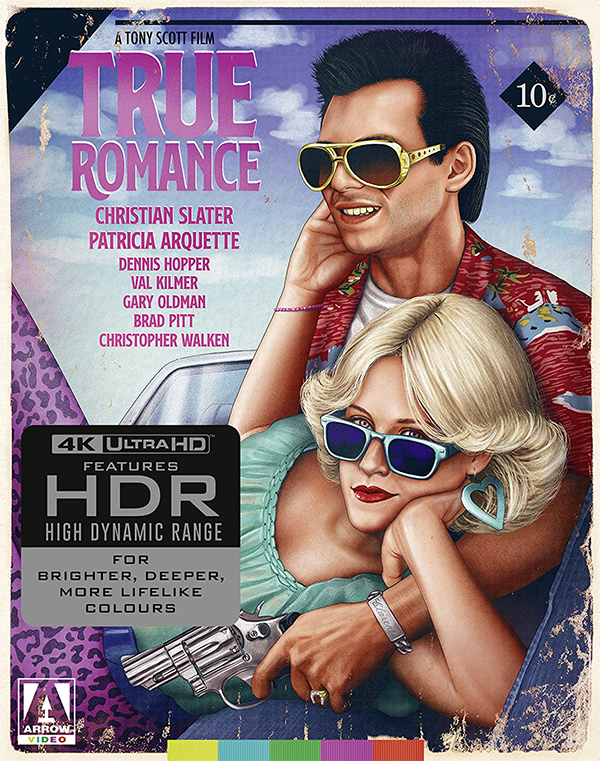 Shortly before Quentin Tarantino amassed a huge number of film fans with 1994's Pulp Fiction, he penned the Tony Scott action/romance/thriller, True Romance. This is where I first fell in love with the genius of his writing. I was already of a fan of Tony Scott, but the filmmaker and the director together delivered such an incredible flick that features a mind-blowing supporting cast. This is one of the 90's best films. Christian Slater and Patricia Arquette are front and center, but they get to share screen-time with the likes of Dennis Hopper, Gary Oldman, Brad Pitt, James Gandolfini and others. Christopher Walken and Samuel L. Jackson also have brief but memorable scenes. The face-to-face between Walken and Hopper is one of the film's most notable moments. Naturally, when I learned we would be getting a Limited Edition 4K UHD from Arrow Video, I was over the moon.
For those who haven't seen True Romance, the story centers on Clarence (Slater) and Alabama (Arquette), two lonely young adults who fall in love after a night of kung-fu movies, pie and a roll in the sack.  Even after Alabama confesses that she is a call girl, hired by Clarence's boss to spend time with him for his birthday, that doesn't sway his feelings. However, Clarence isn't too happy when learns that Alabama's pimp, Drexl (Gary Oldman) gets pretty rough with his girls. So of course, Clarence heads to the pimp's spot and wind's up killing him in self-defense.
It doesn't take long for the new couple to realize that Clarence unknowingly took a suitcase full of a cocaine. He thought the case was filled with her personal belongings.  Now they must find a way to unload the drugs in one easy sale, so they can start a new life together. This takes them from Detroit to Los Angeles, where Clarence's friend Dick (Michael Rapaport) connects him with Elliot (Bronson Pinchot), an assistant to major movie producer Lee Donowitz (Saul Rubinek). He has the money and interest to purchase that much cocaine. However, things get more complicated once the police and the mobsters the cocaine originally belonged to get involved. True Romance is a wild ride with plenty of heart at the center.
Included in this release are new 4K restorations of both the theatrical and director's cut of True Romance, taken from the original camera negatives by Arrow Films. Presented in Dolby Vision (HDR10 compatible), the presentations here look incredible. The film looks much grittier in the first act, due to the Detroit winter setting. However, once the story shifts to the bright California setting, the details stand out much more. Here we get the original uncompressed stereo audio and DTS-HD MA 5.1 surround audio. I prefer the 5.1. From the roller coaster scene to the final-act hotel room standoff, I have no complaints when it comes to the audio. Arrow also loaded this release with tons of bonus content. As always, the Collector's Booklet is my favorite inclusion. If you are a fan of True Romance, this is a must own release.
Bonus Materials:
New 4K restorations of both the Theatrical Cut and the Director's Cut from the original camera negatives by Arrow Films
Limited Edition packaging with reversible sleeve featuring newly commissioned artwork by Sara Deck
60-page perfect-bound collector's booklet featuring new writing on the film by Kim Morgan and Nicholas Clement, a 2008 Maxim oral history featuring interviews with cast and crew, and Edgar Wright's 2012 eulogy for Tony Scott
Double-sided poster featuring original and newly commissioned artwork by Sara Deck
Six double-sided, postcard-sized lobby card reproductions
4K (2160p) UHD Blu-ray presentation in Dolby Vision (HDR10 compatible) of both cuts
Original uncompressed stereo audio and DTS-HD MA 5.1 surround audio
Optional English subtitles for the deaf and hard-of-hearing
Audio commentary by director Tony Scott
Audio commentary by writer Quentin Tarantino
Audio commentary by stars Christian Slater & Patricia Arquette
Audio commentary by critic Tim Lucas
Select scene commentaries by stars Dennis Hopper, Val Kilmer, Brad Pitt and Michael Rapaport
Brand new select scene commentaries by stars Bronson Pinchot and Saul Rubinek
New interview with costume designer Susan Becker
New interview with co-editor Michael Tronick
New interview with co-composers Mark Mancina and John Van Tongeren
New interview with Larry Taylor, author of Tony Scott: A Filmmaker on Fire
Deleted scenes with optional commentary by Tony Scott
Alternate ending with optional commentaries by Tony Scott and Quentin Tarantino
Electronic press kit featurettes, behind-the-scenes footage and interviews with Tony Scott, Christian Slater, Patricia Arquette, Dennis Hopper and Gary Oldman
Trailers and TV spots
Image galleries
By: Marc Ferman