V/H/S/99: Blu-Ray Steelbook Review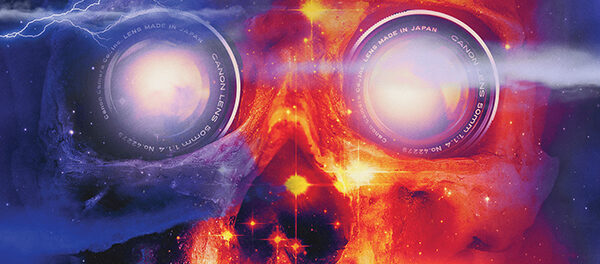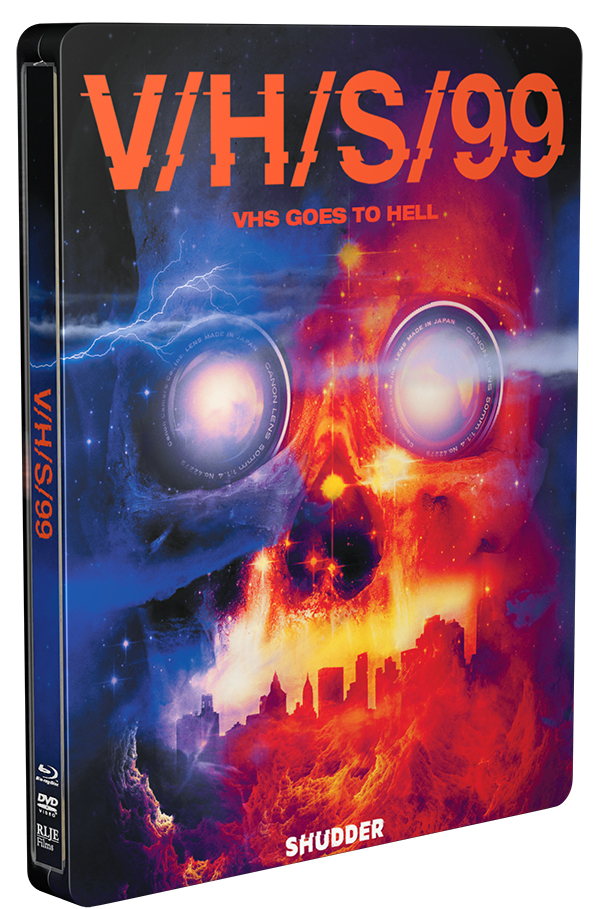 Arriving on Blu-ray this week is the fifth film in the found footage series, V/H/S/99. These films continue to feature talented filmmakers behind each of the segments. The latest film includes composer-turned-director Flying Lotus, Maggie Levin, Tyler Maclntyre (Tragedy Girls), Johannes Roberts (Resident Evil: Welcome to Raccoon City), plus Joseph and Vanessa Winter (Deadstream). I have watched almost every V/H/S film, except for V/H/S/94 which I will eventually get around to. I probably skipped that one because of my major disappointment with Viral. For the most part, this is one of the best horror series currently out there. The reason for this would be the talent involved. They know what's scary and they seem to know how to pace their shorts almost perfectly. Like any anthology, not all segments are great, but V/H/S/99 is nearly on the same level as the first film, but not quite as memorable as the outstanding V/H/S/2.
The first segment, Shredding, was written and directed by Maggie Levin. It follows a prank-pulling punk band called R.A.C.K. For the latest episode of the web show they host, Rachel, Ankur, Chris, and Kaleb, they decide to break into a former music venue that burned down three years prior. It is known that a punk band named Bitch Cat was trampled to death by their fans while trying to escape the fire. While there, they play a few mean tricks on bandmate Ankur who believes in ghosts and evil spirits. What they don't realize is that the members of Bitch Cat possess the old club and they don't take too kindly to their uninvited guests.
While not the best segment in 99, Levin has put together a cast the perfectly portrayed a group of teens that you want to see torn apart by vengeful punk demons. In the final minutes, the filmmaker delivers.
The next segment is Suicide Bid, written and directed by Johannes Roberts. Lily is a lonely college freshman, who wants to join the Beta Sigma Eta Sorority more than anything. The sorority sisters smell her desperation and decide to take full advantage of their possible pledge. They take Lily to a graveyard and tell her that if she spends the night buried in a coffin, she will become one of their sisters. They do reveal the urban legend of how 20 years ago, a freshman named Giltine was also buried by her classmates and then forgotten about for a week. When they dug up the coffin, she was gone. Of course, we know right then where this story will be going. Roberts has proven in the past that he can make his environments work for him. He did so with the ocean in 47 Meters Down and he made the only Resident Evil movie that felt like it took place in the same unsettling universe as the games. Here Roberts takes advantage of the small space of a coffin and the frightening elements that begin to surround it. This is one of my two favorite stories in V/H/S/99.
My least favorite segment of V/H/S/99, would be Ozzy's Dungeon, written by Zoe Cooper and directed by Flying Lotus. This is basically a dark version of the 80's/90's show Double Dare, where a group of kids would compete in physical challenges. In this game, the winner would get to enter the dungeon and have a single wish granted by the mysterious Ozzy. When Donna, a young challenger is severely injured during the game, the show's host does not stop the challenge, even though she is screaming for help.
Years later, the show is now cancelled, but there are still scores to be settled. The show left Donna crippled and thanks to a waiver, they received no compensation. Donna's mother and family have kidnapped the host and make him go through their own set of painful physical challenges. The problem with Ozzy's Dungeon is that it isn't fun or scary. While the idea is an inspired one it just comes across as mean.
Next, we have The Gawkers, directed by Tyler Macintyre, who also co-wrote the segment with Chris Lee Hill. This is one of the more predictable segments, but also one of the more entertaining ones. It felt almost like a found footage take on a Twilight Zone episode. A group of kids can't take their eyes off the beautiful woman that lives across the street. She happens to have stone heads around her property, so that should give you an idea on where things are going.
When Dylan and his friends witness his younger brother Brady actually talking to the woman while attempting to roller skate, they convince him to install spyware in her computer to give them video camera access. He reluctantly does so, just to be accepted by his brother and friends. Like I mentioned before, we know where this story is going, but Macintyre still manages to make it fun, giving it a little Fright Night vibe.
Last but not least, we have Vanessa and Joseph Winter's To Hell and Back, which might be my favorite segment In V/H/S/99. Set on New Year's Eve 1999, a couple of videographers, Nate and Troy are hired to film a party. It turns out that the party is really a coven of witches performing a ritual in which a woman volunteered to be offered up as a vessel for the demon known as Ukabon. Unfortunately, and unwelcome demon crashes the ritual and when it cast out, the demon takes the videographers with it. Once Nate and Troy realize they are in hell, that is where the frantic fun begins. The filmmakers obviously have a limited budget to work with, but they make their limited resources work to their advantage, creating a believable hell landscape. To Hell and Back moves along at a breakneck pace and barely stops to take a breath. When you are making a short film, this definitely helps.
If you are a fan of the V/H/S films, you may want to grab this release. The already awesome looking poster for the film makes for a beautiful steelbook package.
Bonus Features:
Filmmaker Commentary
Exclusive Panel from Reedpop's New York Comic Con
Deleted Scenes
"Shredding" BitchCat Music Video
"The Gawkers" camera test and The Making of Medusa
"To Hell and Back" Storyboards and Location Scouting
Bloopers
And more!
By: Marc Ferman