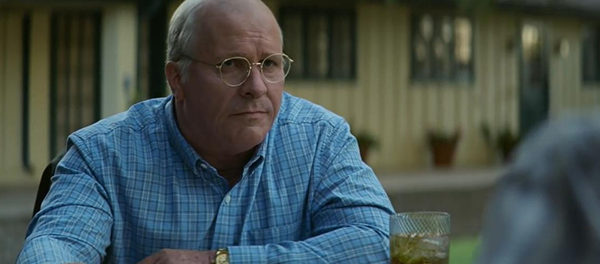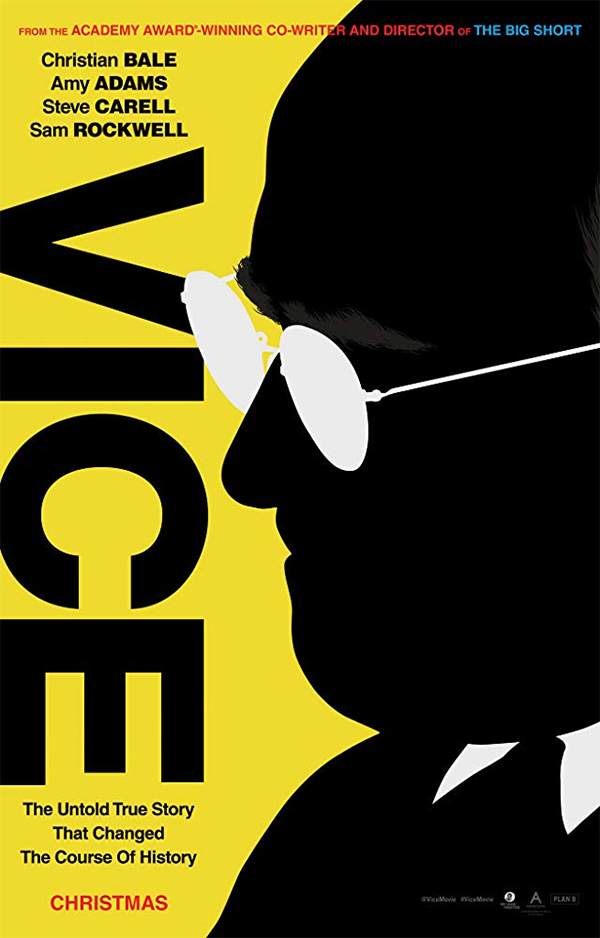 Adam McKay is best known for directing Will Ferrell hits like "Anchorman", "Talladega Nights", Step Brothers", and "The Other Guys". In 2015 he kicked things up a notch with US mortgage market dramedy, "The Big Short".  McKay proved that he could pull off an engaging and intelligent adult film and still manage to make it funny.  It was his work helming "The Big Short" that made me look forward to his Dick Cheney biopic.  I know that "Vice" has been nominated for six Golden Globes but aside from Christian Bale's magnificent transformation into the former Vice President, McKay tries to be way too clever with his directorial choices and fails in almost every way.
As the story begins, we learn that Cheney (Bale) had been kicked out of college for his hard partying and drinking. He goes on to do manual labor during the day, while getting drunk and getting in bar fights at night. His wife Lynne (Amy Adams) is fed-up and threatens to leave Dick if he doesn't get his life together. Dick turns things around and makes his way to Washington, securing a job with the not-so-politically correct White House official, Donald Rumsfeld (Steve Carell). We are unsure what Cheney's political beliefs are, or if he even has any. When he enters the political area, his beliefs are whatever he thinks those he works with are.
Cheney's life gets all-the-more interesting later-on when he agrees to run as Vice President to George W. Bush (Sam Rockwell). Cheney knows that being a Vice President is not the job he truly wants but he sees an opportunity working with the very green soon-to-be president that he just can't pass up.  Cheney offers to run with Bush if he is given control do certain White House duties. From there, the elected Vice President gets his hands into everything, becoming more powerful than the President himself.
I believe there is a good film to be made about Dick Cheney, but this is most definitely not it.  One of the first issue with the biopic comes at the opening.  We are told right from the start that because Dick Cheney was such a private person, they had to make a bunch of the stuff in the film up or there wouldn't be a movie. It's hard to get into a true story that we know isn't all true.  At least with a film like "Bohemian Rhapsody", which felt very one-sided, there was too much great music that made it difficult not to enjoy.
Another issue is that McKay tries too hard to be different.  At one point in "Vice", we are given a fake ending, complete with end credits.  This is about half-way through the film and in all honesty, by that point I was kind of bummed that the "Vice" wasn't over.  I knew the ending was fake, but it was more annoying than clever. The casting was another issue. I didn't buy Carell or Rockwell as their respective characters. Same goes with Tyler Perry as Colin Powell.  Only Adams and Bale were able to shine. Bale does deserve his nomination and even deserves to win, be he has some tough competition. Despite the talent involved, "Vice" is just plain bad. It doesn't work as a comedy or a political drama. With enough painful politics going on in the world today, you shouldn't have to subject yourself to a painful to watch political movie.
By: Marc Ferman