Weird Science (Special Edition): Blu-Ray Review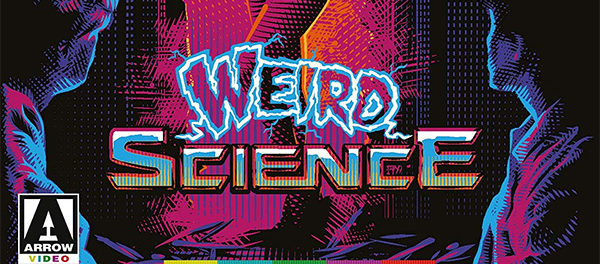 Arriving this week on Special Edition Blu-ray is John Hughes 80's sci-fi comedy, "Weird Science".  Being in my mid-40's, I grew up on the filmmaker's 80's hits and I love them all. "Weird Science" might not be as great as "The Breakfast Club" or "Sixteen Candles" and is the film least likely to get a modern day remake (as we live in a completely different time for the material), but it does have its charms and a killer title song by Oingo Boingo. Most of all, it has Bill Paxton's Chet. One of the best sibling characters ever put to film.
If you are as fond of "Weird Science" as I am, then you are going to love this release from Arrow Video. Aside from the new 4K scan from the original negative, there is also 1080p presentation with two newly remastered addition scenes. There are also a couple of new interviews included and some previously released bonuses as well. If you get your hands on the first pressing, you will get an illustrated booklet as well.
The 4K remaster looks fantastic and a definite must-buy for any fan. Sure, much of the humor in the film would be considered offensive by today's generation and their feelings would be absolutely justified. However, it is a product of its time and its never mean spirited. One more addition, I absolutely love the Special Edition cover art by Tracie Ching.
Bonus Materials
New restoration by Arrow Films from a 4K scan of the original negative
High Definition (1080p) Blu-ray presentation of the original Theatrical Version of the film (94 mins), plus seamlessly-branched exclusive Extended Version (97 mins), featuring two additional scenes newly remastered in high-definition
Original lossless stereo audio, plus 5.1 DTS-HD MA surround option (theatrical version only)
Original English subtitles for the deaf and hard of hearing • Edited-for-TV version of the film (SD only, 95 mins), plus comparison featurette highlighting the alternate dubs and takes
Option to watch additional scenes from the Extended Version separately
Newly-filmed interview with special makeup creator Craig Reardon • Newly-filmed interview with composer Ira Newborn
Newly-filmed interview with supporting actor John Kapelos • All-new interview with casting director Jackie Burch
It's Alive: Resurrecting Weird Science, an archive documentary featuring interviews with cast, crew and admirers, including star Anthony Michael Hall
Theatrical trailers and TV spots
Image gallery
Reversible sleeve featuring original and newly commissioned artwork by Tracie Ching
FIRST PRESSING ONLY: Illustrated collectors' booklet featuring new writing on the film by Alexandra Heller-Nicholas and Amanda Reyes
By: Marc Ferman