We're the Millers: Movie Review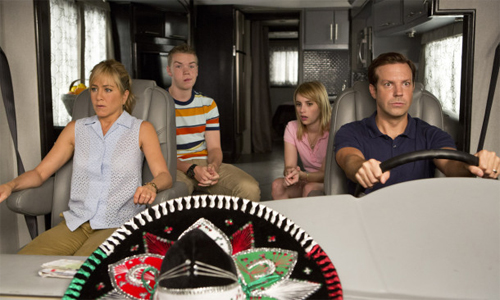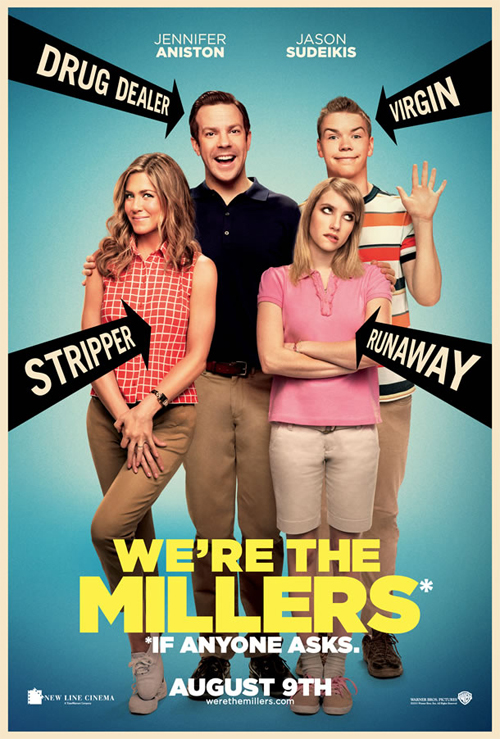 After the 2004 comedy hit "Dodgeball: A True Underdog Story", director Rawson Marshall Thurber seemed to take a break from features. In 2008 he helmed a film I have never heard of before called "The Mysteries of Pittsburgh", but  aside from that, he worked on a few short films but that's it.  Nearly a decade after his last comedy feature, Thurber is back, with "We're the Millers" and it's actually quite funny.
David Clark (Jason Sudeiks) is a small-time pot dealer who winds up getting robbed, which leaves him in debt with former college buddy and drug kingpin Brad  Gurdlinger (Ed Helms). In order to erase the debt and earn one hundred thousand dollars, David must travel to Mexico and pick up what Brad calls a smidge and a half of pot.  Looking too much like a drug dealer, David not only needs a new look, but he needs a little something extra to help him cross the Mexico border back into the United States without drawing any attention.  David enlists the help of his stripper neighbor Rose (Jennifer Aniston) to pretend to be his wife, a seemingly homeless but streetwise teen named Casey (Emma Roberts) to be his daughter and an awkward boy named Kenny (Will Poulter) to be his son.
The fake family (calling themselves the Millers) pick up a few tons of weed in their huge RV and all goes well, until it turns out that Brad left out a few major details about the drugs.  Now  the fake family not only have to outrun the deadly Mexican drug cartel, but they also managed to link up with another traveling family, Don and Edie Fitzgerald (Nick Offerman and Kathryn Hahn respectively).  It just so happens that Don is a D.E.A. agent.
There are quite a few laughs to be had in "We're the Millers". In one scene the awkward and shy Kenny is getting kissing lessons from his fake mom and sister and he is going back and forth between the two, when suddenly the girl he likes walks in and witnesses what she thinks is a family make-out session.  Trust me…it's really funny.  Helms has a small role as the jerk Brad and he seems to be having a hell of a lot of fun with it.   Aniston may not be the queen of comedy here, but she does a decent job holding the fake family unit together.  She also looks fantastic when she is in stripper mode.  Sudeikis is really funny and likable here. If you are up for a good comedy, then "We're the Millers" is the movie for you.
By: Marc Ferman