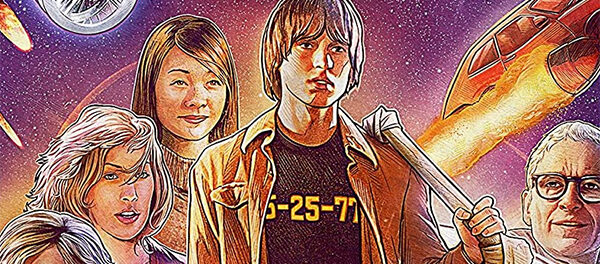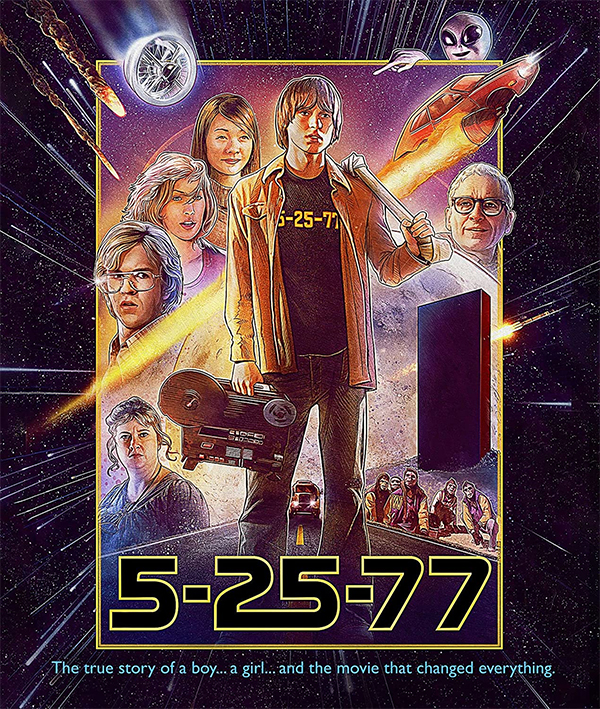 Available on Blu-ray and DVD this week is writer/director Patrick Read Johnson's coming-of-age film, 5-25-77. Loosely based on his own life, the production spanned nearly two decades. Johnson began funding the project in 2001 with filming taking place in 2004-2006 and additional production in 2015-2016. After an official premiere in 2017, 5-25-77 didn't get a release until now.
Set in the spring of 1977, Pat Johnson (John Francis Daley) is obsessed with filmmaking. After seeing Stanley Kubrick's 2001: A Space Odyssey as a kid, the young man from a small town in Illinois would spend all his free time making his own sequels to films he loved, like Jaws, Planet of the Apes and Dual. However, he rarely finished any of them before moving on to the next. Pat's best friend Bill (Steve Coulter) was always there by his side to work on the films and his single-mother Janet (Colleen Camp) always tried to be encouraging, even when Pat would cause some serious damage around the house.
In the middle of Pat's life with his camera, he does manage to find love with Linda (Emmi Chen). It becomes a bit of a balancing act between making movies and spending time with Linda, but everything begins to change after Janet makes a very important phone call on her son's behalf. It isn't long before Pat jumps on a plane to Los Angeles to meet American Cinematographer Magazine's editor Herb Lightman (Austin Pendleton). The trip to Hollywood not only leads to meeting Steven Spielberg on the set of Close Encounters of the Third Kind, but also being one of the first to get an early look at a little upcoming sci-fi film called Star Wars.
Once Pat arrives home, he must make a choice.  Does he want to stay in his hometown with a population of 700 people or is he willing to make that move to California and try to make his dream a reality. If you are familiar with Patrick Read Johnson's work, then you already know the answer to that question.  5-25-77 is a heartfelt and honest look at the impact movies can have on someone. Johnson has written a cinematic love letter to fans of the sci-fi classics. If you grew up loving Star Wars or 2001, this is a must watch.
Bonus Materials:
Audio Commentary with writer/director Patrick Read Johnson, moderated by Seth Gaven, founder of the A.V. Squad and editor of the film 'Spaced Invaders'
Q&A from the 2013 Fantasia Film Festival with director Patrick Read Johnson
3 Theatrical Trailers
3 Photo Galleries
Optional English Subtitle
By: Marc Ferman