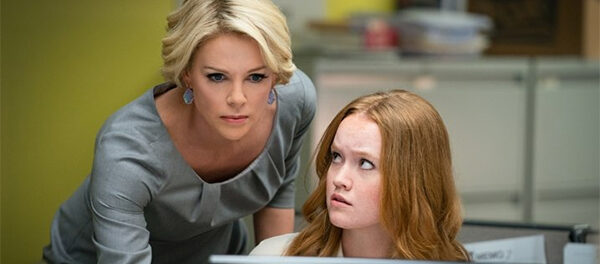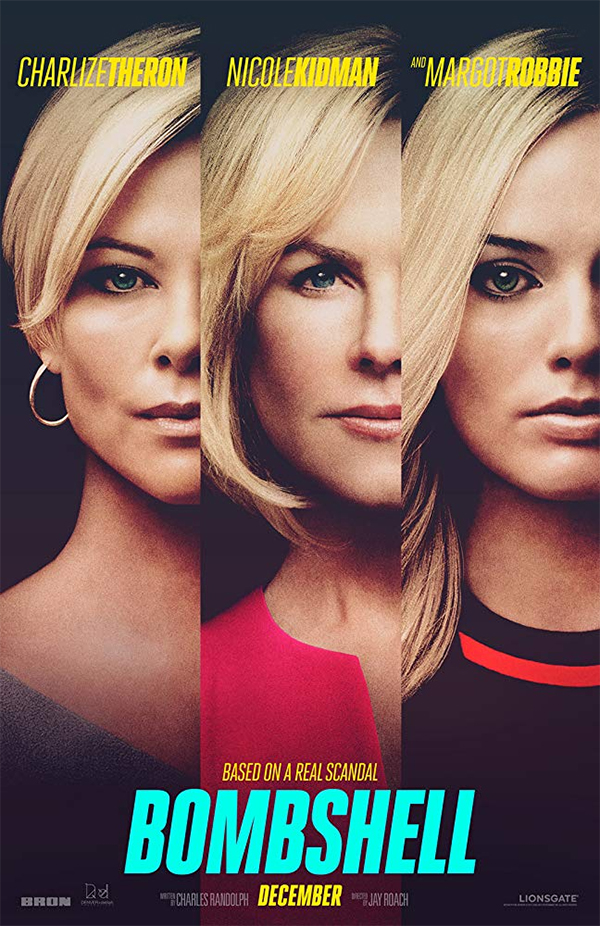 Director Jay Roach is best known for his popular comedy features like "Meet the Parents", "Austin Powers" and "The Campaign".  In 2015 he delivered a biopic about Dalton Trumbo which didn't impress, despite a great performance from Bryan Cranston. However, much like Roach's 2010 TV movie about the 2000 Presidential election, "Recount", the filmmaker proves once again that he knows how to balance an ensemble cast filled with great talent. All while telling an important story and keeping it entertaining. Despite some minor issues when it comes to following side characters, "Bombshell" gives Charlize Theron, Nicole Kidman and Margot Robbie enough great material which allows each of them to shine.
While watching "Bombshell" I found myself thinking that these events took place only three years ago. We begin with Fox News anchor, Gretchen Carlson (Kidman) meeting with lawyers, ready to come out about how she was sexually harassed by the head of the network, Roger Ailes (John Lithgow). She can't sue Fox directly, so her plan is to go after Ailes directly. However, to have any chance of success, other women will need to come forward that have gone through what she has. Another Fox anchor, Megyn Kelly (Theron) has also been harassed. However, she is not so quick to step forward. Through it all, we are also introduced to a young and bright eyed, Kayla Pospisel (Robbie), who dreams of becoming an anchor, herself.  Unfortunately, Kayla becomes a victim of Roger's behavior as well. Her fear of losing everything she has worked for also keeps her silent. Things really begin to come together, when Kelly begins to quietly visit former Fox News female newscasters about if they experienced similar toxic behavior from the network head. We also see how loyal the employees are to Ailes, and the people who want to take him down are alienated by their peers.
The "Bombshell" narrative is very similar to the outstanding 2015 US mortgage market comedy-drama, "The Big Short", which is of no surprise, since both screenplays were worked on by Charles Randolph. The writing here is great, but as I mentioned before, I did get a big lost when trying to keep track of some of the film's minor characters. Namely some of the former victims of Ailes. There is a great supporting cast here which includes Kate McKinnon, Allison Janney and Connie Britton.  It doesn't matter if you are familiar with the Fox News scandal or not, "Bombshell" is one of the most relevant films coming out this holiday season and I highly recommend you check it out.
By: Marc Ferman