The Fly Collection: Blu-Ray Review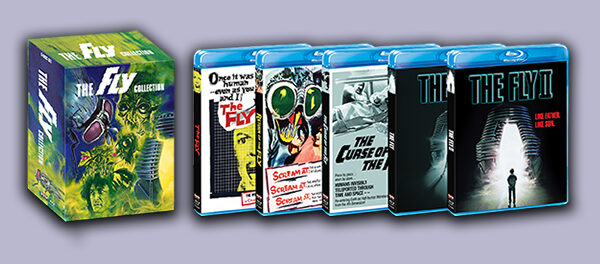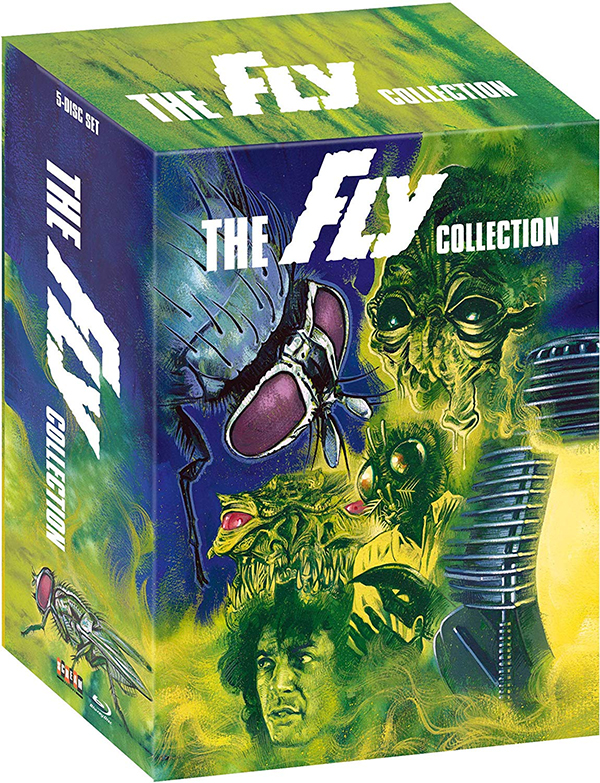 Earlier this year, Shout! Factory/ Scream Factory made my wish come true when they released the "Critters" films on Blu-ray for the very first time. All four titles in one lovely box set. Now they are ending 2019 in a big way with The Fly Collection. This five-disk set includes 1958's "The Fly" and its' two sequels, 1959's "Return of the Fly" and 1965's "Curse of the Fly". It's hard to believe that horror franchises have been around for more than 60 years. The two film's I grew up with were the remakes. David Cronenberg's "The Fly" from 1986 and 1989's "The Fly II", directed by F/X artist Chris Walas. Both titles are included in The Fly Collection.
I hadn't revisited the original Vincent Price starring film since I was a child and although many of the classic horror films of the time are hard for me to get into, there is still so much to appreciate about "The Fly".  The first sequel, "Return of the Fly" is actually more enjoyable, though I can't say that I was a fan of "The Curse of the Fly". I had never seen the third film in the series until now and it goes the "Halloween" route by ignoring the events of the second film. The transfers for all three of the originals look quite good though.
When it comes to "The Fly" and "The Fly II" from the 1980's, those are the real gems of the collection. Not only do the presentations look beautiful, those films are packed with an impressive number of bonus features. "The Fly" (1986) includes a new interview with Mel Brooks (who was an executive producer), composer Howard Shore, Cinematographer Mark Irwin and casting director Deidre Bowen. "The Fly II" included new interviews with producer Stuart Cornfeid, screenwriters Mick Garris and Ken Wheat, Composer Christopher Young, F/X artist Tom Sullivan and cinematographer Robin Vidgeon.
Although this set was released last week, it took me a little extra time to go through it and I must say, if you are looking for a last minute gift for your favorite horror fan before the Holidays next week, "The Fly Collection" would make a wonderful gift.  If you are a fan of the franchise yourself, this is a set that is definitely worth owning.
Bonus Features
DISC ONE: THE FLY (1958)
NEW Audio Commentary With Author/Film Historian Steve Haberman And Filmmaker/Film Historian Constantine Nasr
Audio Commentary With Actor David Hedison And Film Historian David Del Valle
Biography: Vincent Price
Fly Trap: Catching A Classic
Fox Movietone News
Theatrical Trailer
DISC TWO: RETURN OF THE FLY (1959)
NEW Audio Commentary With Actor David Frankham And Jonathan David Dixon
NEW Audio Commentary With Author/Film Historian Tom Weaver
Audio Commentary With Actor Brett Halsey And Film Historian David Del Valle
Theatrical Trailer
TV Spot
Still Gallery
DISC THREE: THE CURSE OF THE FLY (1965)
NEW Audio Commentary With Author/Film Historian Steve Haberman And Filmmaker/Film Historian Constantine Nasr
NEW Interview With Actress Mary Manson
NEW Interview With Continuity Renee Glynee
Theatrical Trailer
TV Spot
Still Gallery
DISC FOUR: THE FLY (1986)
NEW Audio Commentary With Author/Film Historian William Beard
NEW The Meshuggener Scientist – An Interview With Executive Producer Mel Brooks
NEW Beauty And The Beast – An Interview With Producer Stuart Cornfeld
NEW A Tragic Opera – An Interview With Composer Howard Shore
NEW David's Eyes – An Interview With Cinematographer Mark Irwin
NEW Interview With Casting Director Deirdre Bowen
Audio Commentary With Director David Cronenberg
Fear Of The Flesh: The Making Of The Fly – Covering All 3 Stages Of The Production – Larva, Pupa And Metamorphosis
The Brundle Museum Of Natural History With Chris Walas And Bob Burns
Deleted Scenes With Storyboard And Script Versions
Extended Scenes
Alternate Ending
Test Footage (Main Titles, Lighting And Makeup Effects)
Vintage Featurette/Profile On David Cronenberg
Still Galleries (Publicity, Behind-The-Scenes, Concept Art, And Visual Effects)
Theatrical Trailers
TV Spots
George Langelaan's Short Story
Charles Edward Pouge's Original Screenplay
David Cronenberg's Screenplay Rewrite
Magazine Articles With Photos And Video
Trivia Track
Two Easter Eggs
DISC FIVE: THE FLY II (1989)
NEW Fly In The Ointment – An Interview With Producer Stuart Cornfeld
NEW Original Visions – An Interview With Screenwriter Mick Garris
NEW Version 2.0 – An Interview With Screenwriter Ken Wheat
NEW Big And Gothic – An Interview With Composer Christopher Young
NEW Pretty Fly For A Fly Guy – An Interview With Special Effects Artist Tom Sullivan
NEW Interview With Cinematographer Robin Vidgeon
Interview With Director Chris Walas
Interview With Producer Steven-Charles Jaffe
Audio Commentary With Director Chris Walas And Film Historian Bob Burns
Transformations: Looking Back At The Fly II
The Fly Papers: The Buzz On Hollywood's Scariest Insect
Video Production Journal – A Behind-The-Scenes Look At The Special Effects
Composer's Master Class: Christopher Young
Storyboard To Film Comparisons With Optional Commentary By Director Chris Walas
Vintage Featurette
Extended Press Kit Interviews With Eric Stoltz, Daphne Zuniga, And Chris Walas
Alternate Ending
Deleted Scene
Teaser Trailer
Theatrical Trailer
Still Gallery
Storyboard Gallery
By: Marc Ferman