Silver Bullet (Collector's Edition): Blu-Ray Review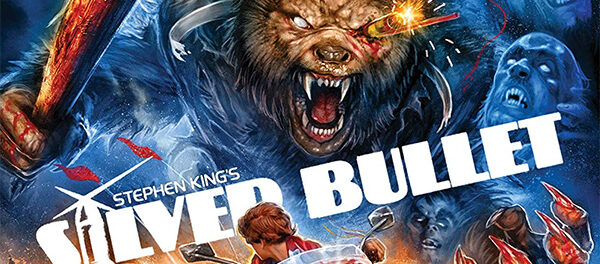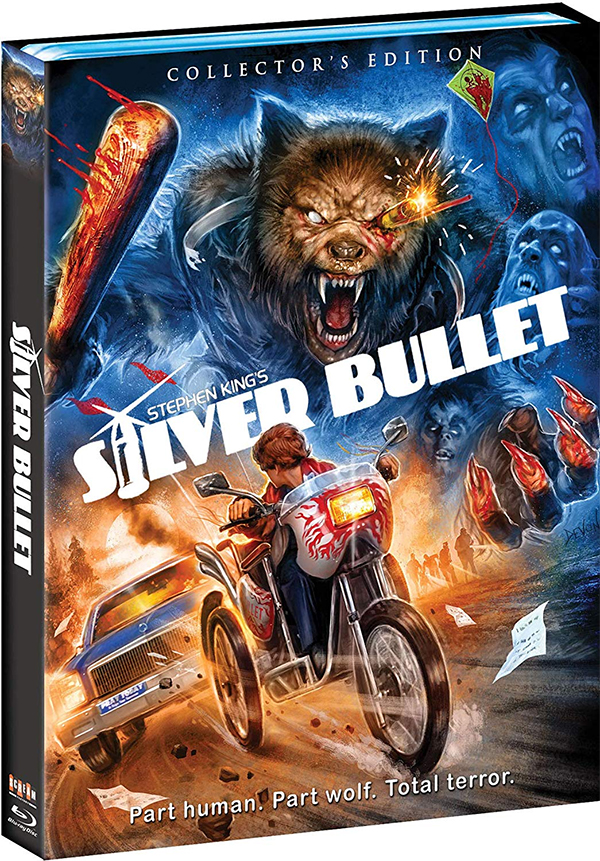 Now available on Collector's Edition Blu-ray is 1985's "Silver Bullet", which was based on the Stephen King novella, "Cycle of the Werewolf".  This film always had a special place in my heart, thanks mostly to the fun performances by Gary Busey and Everett McGill. Sure, the creature design left something to be desired, especially after film's like "An American Werewolf in London" and "The Howling" which were released four years earlier.  Still, in the 80's I was all about kids vs monster movies and "Silver Bullet" was much more graphic than "The Monster Squad" (which I actually love).
The story centers on Marty (Corey Haim) a young paraplegic boy who survives an encounter with a werewolf. Although his uncle Red (Busey) doesn't believe his story, he tells his older sister Jane (Megan Follows), who does believe him. Since Marty shot the creatures eye out with one of his fireworks, Jane goes around town looking for a person who is missing an eye. It doesn't take long before she finds exactly what she is looking for and they siblings soon find themselves in terrible danger.
What many people might not know is that Don Coscarelli ("Phantasm") was the original director on the film, but when he resigned, Daniel Attias took over. This was Attias' first and only feature film. However, he would go on to have a hugely successful career directing many popular television series. Although this wasn't Corey Haim's first film, this was his first starring role, which he would go on to star in "Lucas" the following year and then teen star status with "The Lost Boys" the year after that. "Silver Bullet" was a big deal for many involved.
Released for the first time in North America, this transfer looks great, which unfortunately does make the creature itself look a bit more unimpressive. Still, "Silver Bullet" is at its best when it's focused on the characters and not the monster. Thankfully, we don't see much of it during the film.  Some of the new bonus feature created for this release are interviews with editor Daniel Loewenthal, actor Kent Broadhurst and a commentary with producer Martha De Laurentiis.  If you are a fan of this Stephen King adaptation, I recommend adding it to your collection.
Bonus Features
NEW Audio Commentary With Producer Martha De Laurentiis
NEW Cutting To The Bone – An Interview With Editor Daniel Loewenthal
NEW A Little Private Justice – An Interview With Actor Kent Broadhurst
The Wolf Within – An Interview With Actor Everett McGill
Full Moon Fever – The Effects Of Silver Bullet – An Interview With Special Effects Artists Matthew Mungle And Michael McCracken
Audio Commentary With Director Daniel Attias
Isolated Score Selections And Audio Interview With Composer Jay Chattaway
Theatrical Trailer
TV Spot
Radio Spot
Still Gallery
By: Marc Ferman