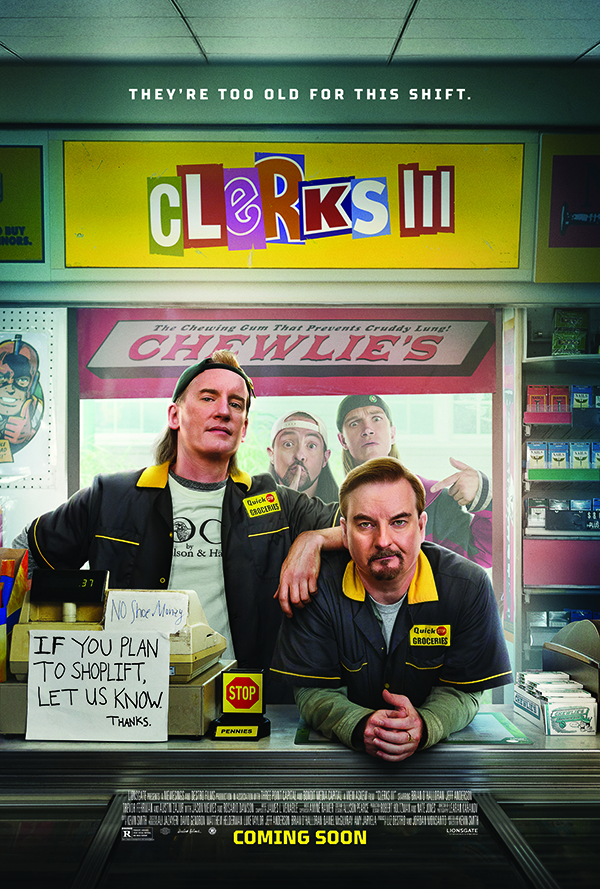 It's been nearly three decades since writer/director Kevin Smith broke onto the scene with his black & white indie feature, Clerks. The 1994 film not only launched Smith's career but he was able to turn the success of that film into a brand that spawned an animated series, merchandise, sequels and spin-offs for his supporting characters Jay and Silent Bob.  In 2018 Smith suffered a heart attack and that major event in his personal life changed the course of the characters in the Clerks universe as well. While Clerks III may not be what his fans may have been expecting, it is probably Smith's most honest and personal film to date.
Clerks III is a bit of a tricky film to review because there are a handful of important plot-points that are thankfully not given away in the film's marketing. However, these revelations are very important to the overall narrative. Because of this, I won't be saying much about the actual story. It is the surprises that Smith hits us with that are some of the most effective moments in the film. We last saw Randal Graves (Jeff Anderson) and Dane Hicks (Brian O'Halloran) back in 2006's Clerks II when they decided to buy the Quick Stop convenience store and run it themselves.
After suffering a near-fatal heart attack at work, Randal comes to the realization that he hasn't done much of anything in his life. His life as he sees it has been not much more than working at the Quick Stop and watching the same movies over-and-over again. When Dante tells Randal that he always thought his friend could have made a movie, Randal decides to make one right away. What's the movie about?  Well, it will be about him working at the Quick Stop. This is definitely a meta way to go, since the original Clerks was about Smith working at that exact same convenience store.  Who is going to shoot Randal's film? Well, the Director of Photography will be Silent Bob (Kevin Smith) who will only shoot it in black and white.
As I mentioned before, Clerks III was written in the aftermath of Smith's heart attack and while it's not nearly as funny as the first two films, it does wear its' heart on its' sleeve. Smith does throw in a whole bunch of callbacks to the first two films which will make fans of the filmmaker's cinematic universe very happy. However, this sequel is more determined to pull at your heartstrings than your funny bone. There are laughs thanks to Jason Mewes always reliable Jay and Trevor Fehrman's Elias. We also get a ton of cameos, though they don't always hit. Clerks III is not going to please everyone. Yet, I feel this instalment is a fitting farewell to the characters we have come to love over the years.
By: Marc Ferman