Drive (Special Edition): 4K UHD Review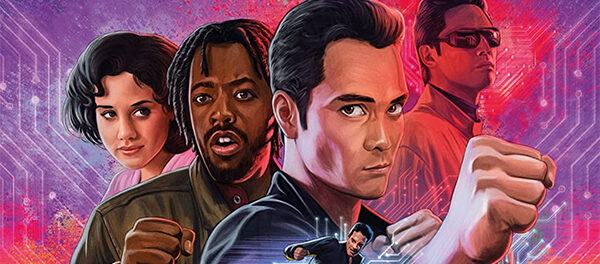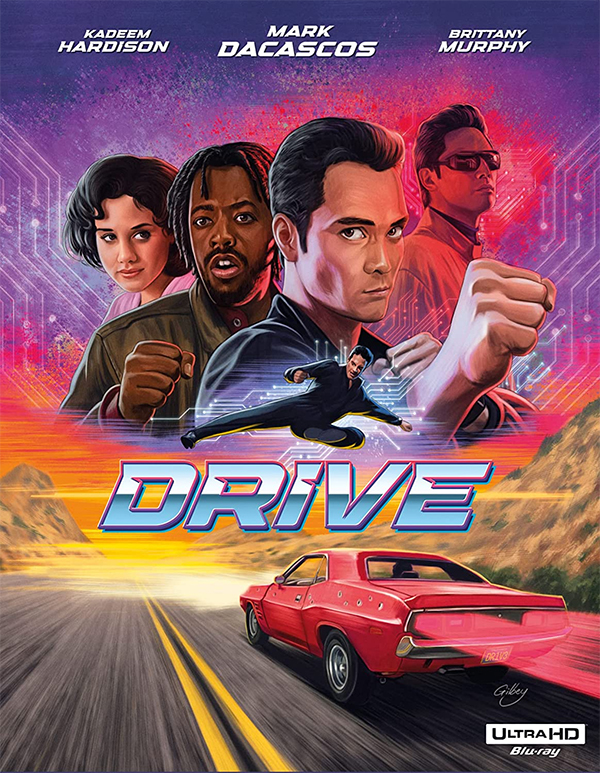 If you mention the film Drive to almost any cinema lover, they are going to automatically think of the Nicolas Winding Refn's 2011 masterpiece starring Ryan Gosling and with good reason. That movie is insanely awesome. However, fourteen years earlier, director/ effects artist Steve Wang (The Guyver) delivered a fun straight-to-video actioneer starring Mark Dacascos, Kadeem Hardison and Brittany Murphy that was wildly entertaining and deserving of an actual theatrical release. Unfortunately, it never got one.
Special Agent Toby Wong (Dacascos) has been physically enhanced with an advanced bio-device in his chest that gives him superhuman strength and reflexes. He is now the ultimate fighter. However, due to political changes in Hong Kong, he decides to flee his homeland and sell the technology within him to a company in Los Angeles for $5 million. The challenge for Wong is to stay alive long enough to get to L.A. That won't be easy since he has assassin Vic Madison (John Pyper-Ferguson) and his right-hand man Hedgehog (Tracey Walter) on his tail. The assassins themselves don't have it easy, as their employer Mr. Lau (James Shigeta) needs Wong captured alive and as I have stated, Wong is now a fighting machine.
Thankfully Wong is no longer alone, as he now has a taken-against-his will partner in aspiring singer/songwriter Malik Brody (Hardison). The two must get from San Francisco to Los Angeles and avoid getting captured on the way. The late Brittany Murphy shows up as the daughter of a motel owner and let me just say this. If you thought her character from Clueless was strange, just wait until you meet Deliverance Bodine. She was clearly having some fun in this short but memorable role.
Drive is filled with action and Dacascos kicks so much butt throughout the film. Thankfully we are given the director's original 118-minute cut of the film and not producer Robbie Little's 98-minute release that had 20-minutes excised for the US release. Taken from the original camera negative, 88 Films has delivered a truly vibrant presentation of a mid-90's DTV film. Restored in Dolby Vision HDR, Wang's film has never looked better. Right from the opening fight sequence on board a shipping container boat, everything looks absolutely crisp and detailed. The addition of Dolby Atmos really helps the action come to life. Again, the opening sequence is a great example, but also the motel shootout and the final battle within the neon-soaked bar. Drive is an underseen gem and this new release should be added to the collection of any action fan.
Bonus Materials
Limited Edition Slipcase with Artwork by Sam Gilbey
4K Ultra HD (2160p) presentation of the Director's Cut in Dolby Vision (HDR10 compatible)
Audio: Dolby Atmos, 2.0 PCM, 5.1 DTS-HD MA
Optional English subtitles for the deaf and hard-of-hearing
Audio commentary on Director's Cut with Director Steve Wang, Fight Choreographer Koichi Sakamoto and Stars Mark Dacascos and Kadeem Harrison
Drive: Original Cut in 2K HD with optional English Subtitles (HD, 1:39:00)
NEW! Highway to Nowhere – Jason Tobin & Drive featurette (HD, 20:00)
Drive: The Force Behind The Storm' documentary (SD, 47:42)
Six Deleted Scenes (SD, 08:42)
Interview gallery with cast, director and crew including stars Mark Dacascos and Kadeem Hardison, director Steve Wang, Second Unit Director Wyatt Weed and Stunt Coordinator Koichi Sakamoto (SD, 24:30)
Original Trailer (SD, 01:38)
Reversible Artwork
By: Marc Ferman