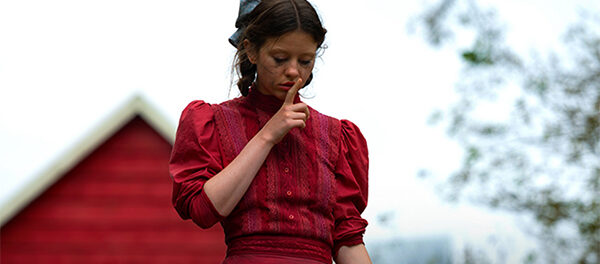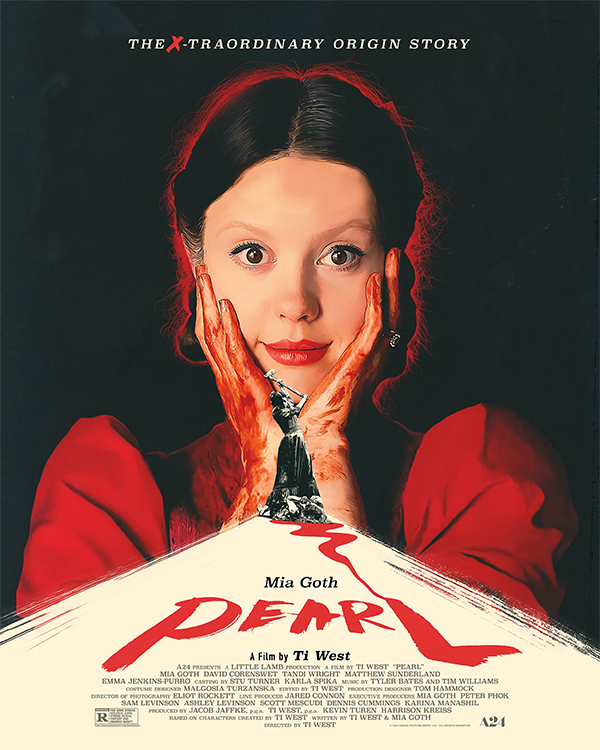 It's been a little over half-a-year since the theatrical release of writer/director Ti West's X. While it may not have made a killing at the box office, the filmmaker did shoot a prequel around the same time. The teaser trailer for Pearl even played as a post-credits tag after X. A third film called MaXXXine is already on its' way. While I found X to be a solid slasher, it didn't really leave a lasting impression. Pearl on the other hand was something completely unexpected. Those looking for something more mainstream like X may be disappointed with the prequel, but if you want something weird, fresh, and out-of-the box, then Pearl delivers.
Mia Goth once again plays Pearl. This time, we are taken back to the year 1918, during the time of the first World War. We are given a look at character's origin story. Pearl has big dreams of being a dancer in the motion pictures. She tries to sneak out to watch the movies any time she can. Yet, the young woman is stuck on the farm, tending to her ailing father, and taking care of the farm's livestock.
As we learned in 1979, Pearl was more than a bit crazy and here we see it slowly coming to the surface. What starts off as mostly dancing fantasies, escalates to something much more. In an early scene, we see Pearl playfully talking to the animals, kind of like a live-action classic Disney movie, until she empales one with a pitchfork and feeds it to the alligator. From the opening credits to the score, to the performances, Pearl feels like a deranged 1940's Disney movie.
Most of Pearl's interactions are with her mother Ruth (Tandi Wright) and the two clearly do not get along. Because Pearl's father (Matthew Sunderland) is unable to move or speak, living the rest of his life in a wheelchair, Pearl has-to constantly clean and feed him. However, all she wants to do is get away from the farm and as she tells the theater projectionist (David Corenswet), it would be so much easier if her parents were dead.
Goth not only stars, but also co-wrote the script with West. This could be one of the reasons her character is so well written. Goth is given so much to chew on here and she absolutely nails it, delivering one of the most unsettling performances I have seen in a long time. However, it is West's Disneyesque direction that helps make Goth's performance even that much stronger. The two have collaborated to give audiences something truly special and not just a needless prequel/sequel.
There are plenty of kills, but they are the least interesting parts of Pearl. It is Goth's performance that stands front and center. While not all horror fans are going to buy into what West and Goth are selling this time around, I can't wait to see what they deliver for the third film.
By: Marc Ferman