Earth Girls Are Easy (Collector's Series): Blu-Ray Review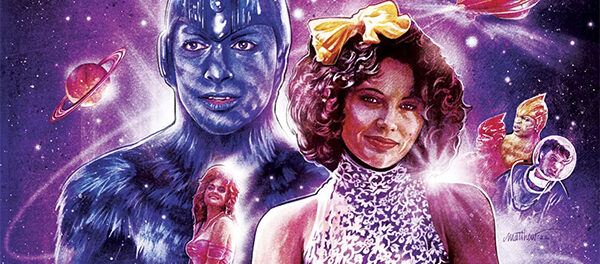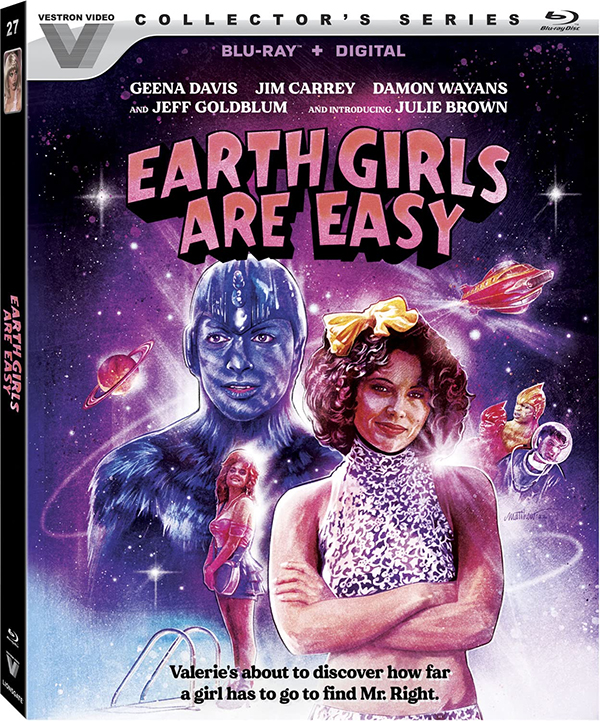 I remember when music video director Julien Temple's feature film Earth Girls Are Easy was released in 1988, I had my mom drive me an hour away to the only theater in Miami playing the film, just so I could see it.  I loved sci-fi, I loved comedy, and I loved Jeff Goldblum and Gena Davis in The Fly two years prior. The nagging paid off and mom took me to see Earth Girls Are Easy. Honesty, I don't remember what she thought of it, but its' a safe bet that she wasn't a fan. Me on the other hand, I was all-in. This week the film arrives on Blu-ray for the first-time, courtesy of Vestron Video and Lionsgate.
Manicurist Valerie Gail (Davis) lives a simple life in the valley. However, she is not all that happy with her fiancé Dr. Ted Gallagher (Charles Rocket). He Hasn't shown any sexual interest in her for more than two weeks. Thinking she might need to help spice things up, Valerie gets a make-over from her friend and co-worker Candy Pink (Julie Brown). It turns out however, that Ted has been seeing a nurse at the hospital and Val caught him.
Just when she felt her life couldn't get any more out of control, a spaceship crash lands in Val's pool carrying three aliens. Mac (Goldbloom), Wiplock (Jim Carrey) and Zeebo (Damon Wayans). While the aliens don't understand the English language, they quickly begins to pick up words via Val's television. Since their ship needs to be repaired, Val takes the three brightly colored furry aliens to Candy for a make-over. It works too, as all it seemed to take was a waxing and tanning to make the three visitors ready for a night in L.A. Earth Girls Are Easy is predictable, but its fun, goofy and just enjoyable. Everyone seems to be having a good time, including Carrey and Wayans who were both still newcomers at the time and hadn't really broken out.
For those who may not be aware, Earth Girls Are Easy is actually a musical. Unfortunately, there aren't that many musical numbers. Julie Brown's Cause I'm a Blonde is the stand-out number, and it was added late in production. That is probably why it felt like it was shoehorned into the film. This new 1080p presentation is a huge improvement over the DVD. One of the things I always loved about the film was the production design. The bright florescent colors really pop. From the bright yellow spaceship which is a little reminiscent of The Beatles Yellow Submarine design to the sets for the hair/nail salon and night club.
There are a bunch of bonus features here, including interviews with Julie Brown who also co-wrote Earth Girls Are Easy. Julian Temple production designer Dennis Gassner and others are also interviewed. If you are a fan like me, I highly recommend picking this one up.
SPECIAL FEATURES
AUDIO COMMENTARY with Actress and Co-writer Julie Brown
INTERVIEWS:
"The Musical Man" — An Interview with Director Julien Temple
"Candy Time!" — An Interview with Actress and Cowriter Julie Brown
"Views of the Valley" — Interviews with DOP Oliver Stapleton and Production Designer Dennis Gassner
"Aliens in L.A." — An Interview with Special Make-Up Supervisor Robert Clark
FEATURETTE: "Earth Girls Karaoke!"
VINTAGE INTERVIEW WITH ACTOR CHARLES ROCKET
VINTAGE PREMIERE NIGHT PROMO
BEHIND-THE-SCENES FOOTAGE
DELETED SCENES & OUTTAKES
THEATRICAL TRAILERS
TV SPOTS
RADIO SPOTS
STILL GALLERY
STORYBOARD GALLERY
By: Marc Ferman