Flatliners (Special Edition): 4K UHD Review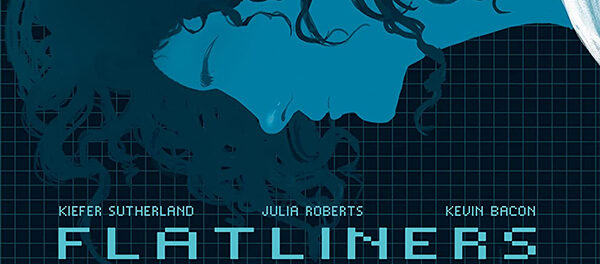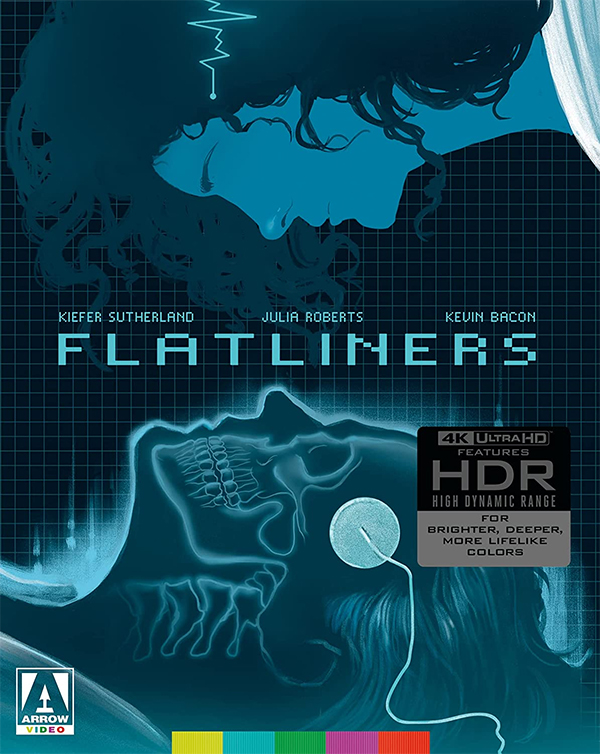 Director Joel Schumacher's 1990 sci-fi horror flick, Flatliners is a fascinating piece of cinema that I find much more interesting now than I did three decades ago. It's a med-school set chiller that at times feels like it's set in a futuristic dark and dismal urban landscape. It's a beautifully decaying world that the filmmaker drops us into, and cinematographer Jan de Bont knew exactly how to help bring Schumacher's vision to life. This is not the kind of world you would have expected to find young stars Kiefer Sutherland and Julia Roberts and Kevin Bacon in. This week, the folks at Arrow Video are releasing Flatliners on 4K UHD for the first time.
Medical student Nelson Wright (Sutherland) has an idea, a very dangerous idea. He wants to know what is out there waiting for us after we die. So, decides to try and find out by dying and coming back. As crazy as that sounds, it doesn't take Nelson too long to convince four of his classmates to assist him with the experiment. David (Bacon), Rachel (Roberts), Joe (William Baldwin) and Randy (Oliver Platt) all sneak into an abandoned building at night to help kill Nelson and bring him back seconds later. While the experiment did work and Nelson was revived in time, the med student may have gotten more than he bargained for.
It seems that when one dies and comes back, they bring back their biggest sins with them. Not only that, but those sins can manifest and harm you physically. In Nelson's case, it is in the form of a young boy that continuously beats the hell out of him. We do not find out why until much later. Since Nelson decides to withhold this information from the rest of the group, they all decide to take a turn and one by one, they are preyed upon by their past sins.
Flatliners is the kind of film that makes absolutely no logical sense and one kind of has to throw logic out the window and go with it to find some enjoyment out of this disjointed thriller. What the film has going for it is and incredible cast and visual style that fits well into the story being told. We are on the border of life and death and Schumacher along with de Bont successfully make the setting work with the narrative. That is something the recent remake wasn't able to do.
The brand new 4K restoration was taken from the original camera negatice and approved by DOP Jan de Bont, since Schumacher is sadly no longer with us. Flatliners is a generally dark film and there isn't a lot of color, aside from the abundance of neon. Having said that, the numerous scenes with the neon glow are definitely a noticeable upgrade from the Blu-ray and even the dilapidated buildings like the one the experiments are held in look highly detailed. The restoration does a great job with the world we are in. A good comparison would be Arrow's 4K restoration of 12 Monkeys which has scenes with similar lighting and textures, thanks to Dolby Vision.
We are given two audio track options. I went with the DTS-HD Master 5.1 over the 2.0 surround. No complaints there, especially when it comes to James Newton Howard's score. There is also a nice selection of bonus materials, including new interviews with writer Peter Filardi, DOP Jan de Bont and more.
Flatliners is definitely a product of its' time and while far from perfect, it is a completely original film with fresh ideas from a time where everything seemed to be stale and repetitive. The early 90's wasn't a great time to be a horror fan. As least here the filmmaker tried to attempt something new. While he didn't fully succeed, it still managed to be an entertaining be of escapism.
Bonus Materials:
Brand new 4K restoration from the original negative, approved by director of photography Jan de Bont
4K (2160p) UHD Blu-ray presentation in Dolby Vision (HDR10 compatible)
Lossless DTS-HD Master Audio 5.1 and 2.0 surround soundtracks
Optional English subtitles for the deaf and hard of hearing
Brand new audio commentary by critics Bryan Reesman and Max Evry
The Conquest of our Generation, a brand new video interview with screenwriter Peter Filardi
Visions of Light, a brand new video interview with director of photography Jan de Bont and chief lighting technician Edward Ayer
Hereafter, a brand new video interview with first assistant director John Kretchmer
Restoration, a brand new video interview with production designer Eugenio Zanetti and art director Larry Lundy
Atonement, a brand new video interview with composer James Newton Howard and orchestrator Chris Boardman
Dressing for Character, a brand new interview with costume designer Susan Becker
Theatrical trailer
Image gallery
Reversible sleeve featuring original and newly commissioned artwork by Gary Pullin
FIRST PRESSING ONLY: Illustrated collector's book
By: Marc Ferman