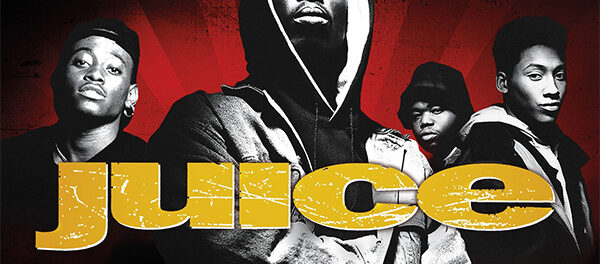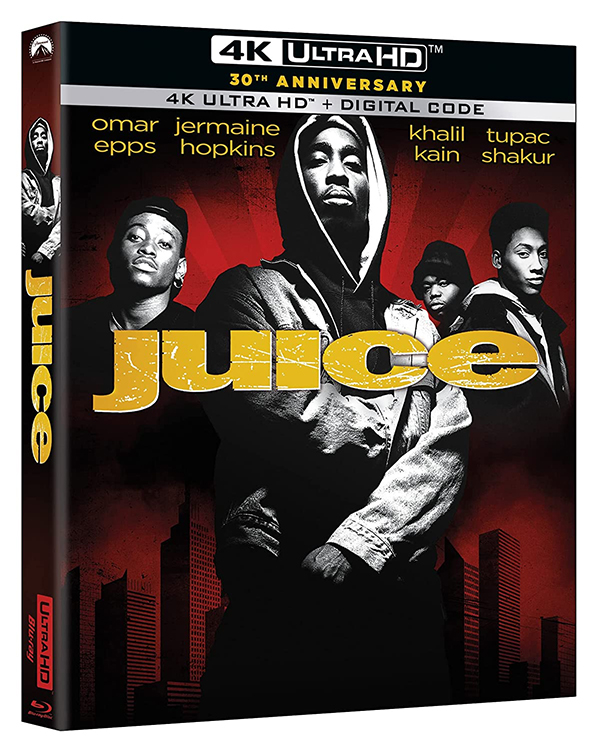 Ernest R. Dickerson got his big break as a cinematographer in the early 80's on such films as The Brother from Another Planet and Krush Groove before working with Spike Lee on some of his most iconic features like Do the Right Thing, Malcom X and many others. In 1992 Dickerson made his feature film directorial debut with the crime-drama Juice which stars Omar Epps, Khalil Kain, Jermaine Hopkins and Tupac Shakur. The filmmaker who has an incredible eye and sense of style brought his gifts to the director's chair and delivered one of the most memorable films of its' era. It also helps that Juice sports a phenomenal hip-hop soundtrack.
Quincy aka Q (Epps) has one dream and that is to win New York's Ruffhouse DJ battle. When he is not with his friends Raheem (Kain), Steel (Hopkins) and Bishop (Shakur), he is locked away in his bedroom, spinning records and making mixtapes, which he sells. While Q has his head in the music, Bishop has his own set of goals. He wants to get the Juice, which means he wants people to fear/respect him and his crew instead of having to dodge rival gangs every day. Bishop's plan is to hold-up a local convenience store with his friends.
The problem for Q is that not only does he not want to go through with it, but Bishop's plan is to do it while the Ruffhouse event is going on, where Q has been selected to be a contestant. Despite not wanting to be a part of it, Q does fall in and the DJ battle makes the perfect alibi for the crew. Unfortunately, the robbery does not go as planned and Bishop shoots the store owner and now Q, Steel and Raheem are accessories to murder. To make matters worse, Bishop becomes increasingly unhinged and begins to distrust his best friends and that turns deadly.
There are a few elements that make Juice work so well. First would be Dickerson's direction, as-well-as the screenplay he worked on with Gerald Brown. However, I need to mention that the casting here is near perfection. The late Tupac Shakur showed that he had what it takes to deliver not only behind the mic but on screen as well. Sure, the film's last line of dialogue has never worked for me, but that is such a minor issue compared to everything great that comes before it.
Just in time for the film's 30th anniversary, Paramount Pictures has delivered a brand new 4K restoration. While the new Dolby Vision presentation is a huge step-up from the 25th anniversary Blu-ray released five years ago. The blacks are deep and New York streets look even more detailed. The colors are also much more vibrant. A perfect example would be the red overalls which Steel is wearing when we are first introduced to his character. I was somewhat disappointed that the studio decided to simply port over the DTS-HD Master Audio 5.1.  It's not that it sounds bad, because it doesn't. The problem is that Juice has not only a great soundtrack, but there are other areas in which a Dolby Atmos track would have been beneficial. There are also no new bonus features. All have been ported over from the Blu-ray. Regardless of my issues, this is still a great looking presentation of the film and definitely worth picking up if you are a fan.
Bonus Features:
Commentary by director Ernest R. Dickerson
You've Got the Juice Now—A look back at the making of the film featuring interviews with director Ernest R. Dickerson, producer David Heyman and actors Omar Epps, Khalil Kain and Jermaine Hopkins. The piece details Dickerson's struggle to remain true to his original vision, his desire to cast fresh new talent, the challenges of shooting on location in Harlem, and the reasons why the film's ending was changed.
The Wrecking Crew—The film's surviving lead actors talk about how they came to be cast in the film and the bonds they immediately formed with one another. They additionally share stories about Tupac Shakur's drive, authenticity and unmistakable genius, as well as their delight at getting to work with Samuel L. Jackson, Queen Latifah and Cindy Herron.
Sip the Juice: The Music—Explores the essential role that music plays in the film. Features vintage interviews with the Shocklee brothers about their score, as well as Erik B, EPMD, and members of Cypress Hill speaking about their contributions to the unforgettable soundtrack and why they chose to be a part of the film.
Stay in the Scene: The Interview—Vintage interview with the four lead cast members on set. The piece demonstrates their rapport as they discuss the importance of the film and its message.
Photo Gallery—Unit photographer Adger Cowans' photos taken on set.
By: Marc Ferman