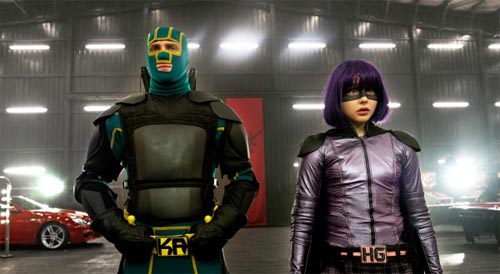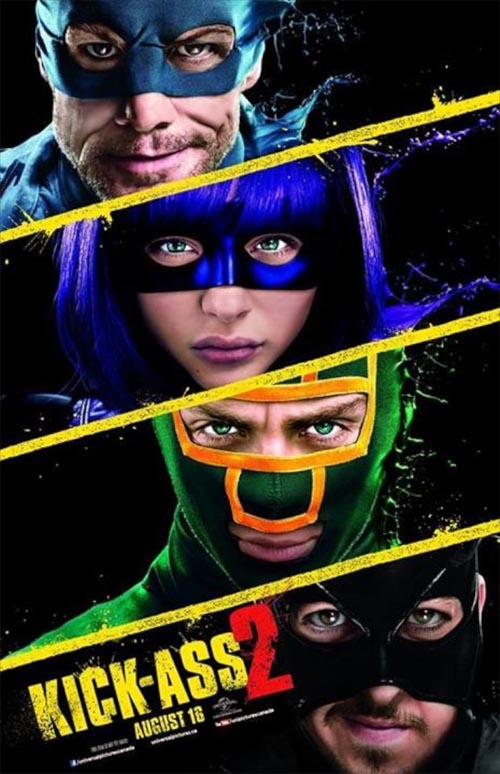 Jeff Wadlow takes over directing duties for Matthew Vaughn in the surprisingly good sequel to 2010's modest-hit "Kick-Ass".  When word first broke that a sequel was in the works, many were surprised. Not because "Kick-Ass" wasn't a good movie, but because it wasn't much of a theatrical hit.   I hoped for a sequel, but just never thought it would come.  Thankfully, the first film did well enough on home video and digital, that the studio gave the go ahead for "Kick-Ass 2".  With a lack a major lack of quality blockbusters this summer, maybe this little-engine-that-could sequel will get the theatrical love it deserves. 
A few years have passed and Dave/Kick-Ass (Aaron Taylor-Johnson) has hung up his green wetsuit in order to focus on being a teenager.  Mindy/Hit-Girl (Chloë Grace Moretz) however is still teaching the criminals a lesson on the streets, keeping a promise she made to her late father Damon/Big Daddy.  Missing his life as a crime-fighter, Dave gets back into the swing of things with the help of Mindy, but when Mindy's guardian Detective Marcus Williams (Morris Chestnut)  makes her promise to hang up the mask and purple wig, Kick-Ass must find a new group of superheroes to team up with.
 Joined by Kick-Ass is Colonel Stars and Stripes (Jim Carrey), Insect Man (Robert Emms), Night Bitch (Lindy Booth), Dr. Gravity (Donald Faison), Tommy's Mum and Dad (Steven Mackintosh and Monica Dolan respectively), and Battle Guy, who just so happens to be Dave's lifelong best friend Marty (Clark Duke).  Together , this team of odd heroes go out and protect the city from crime.  Despite Carrey's very public comments on the film's violence, he is actually quite good here in a supporting role.  He is right though, this is a violent and bloody movie, but so was the first film.  The sequel does go over-the-top with it but in a fun way.
Christopher Mintz-Plasse is back as Chris D-Amico, but he is no longer the hero, Red-Mist, he is now a super-villain named The Motherf*cker.  After Kick-Ass blew up Chris' mobster father with a bazooka in the first film,  he is determined to make Kick-Ass pay.  Chris hires a bunch of hit-men, dresses them up in ridiculous outfits and gives them all stereotypical names like Black Death, Mother Russia, and Genghis Carnage.  Now it's the super-heroes versus the super-villains and its all quite fun.
Hit-Girl does not stay retired for long.  Making new friends and trying out dating doesn't seem to agree with her, so of course she gets back into the whole kicking ass thing.  Just like in the first film, Hit-Girl steals the show.  Moretz is also given a lot more to do here than it people and look cute while doing it.  Her character is going though changes and its handled in a pretty intelligent way.  The chemistry between Taylor-Johnson and Moretz is even better in the sequel.  Even with all the good, I still liked the first film better, but this is definitely a worthy follow up.  I would actually love to see a third film if they can get the main cast back for it.  Make sure to sit through the end credits, because there is a post credits scene.
By: Marc Ferman