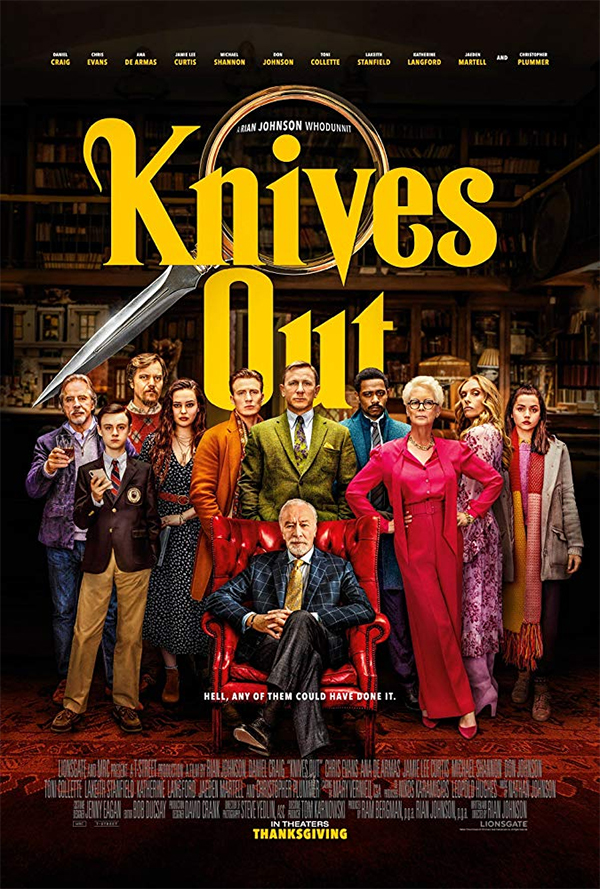 If you look at writer/director Rian Johnson's filmography, you will notice that he is a filmmaker that is able to take a familiar genre and make it completely his own. His breakout film, 2005's "Brick" was a high-school set mystery which was completely different than anything I had seen before, same goes for his 2012 sci-fi time travel flick, "Looper". He even managed to turn the "Star Wars" franchise on its' head with "The Last Jedi".  Johnson clearly likes to break away from the mold. The filmmaker's latest effort, a modern-day who-done-it, called "Knives Out" is more of a throwback than something new, but in this case, that is a very good thing. When people say, "they don't make films like this anymore.", "Knives Out" would be a perfect example.
After the death of Harlan Thrombey (Christopher Plummer), wealthy novelist and family patriarch, his family go under questioning by two local officers and renown private investigator, Benoit Blanc (Daniel Craig), who believes Harlan was the victim of foul play. His children, Linda (Jamie Lee Curtis), Joni (Toni Collette), Ransom (Chris Evans) and Walt (Michael Shannon) are all suspects. So is Harlin's caregiver Marta (Ana de Armas).
As we learn through the progression of the narrative, each member has their own motivations for wanting Harlan dead, but it is the fact that he left everything in his will to Marta that has everyone dumbfounded. It also bothers Blanc that someone mysteriously left an envelope of cash for him with a note, hinting at the potential murder. Nothing makes sense but he is determined to figure out the truth. As part of the audience, I had a great deal of fun trying to figure out things with the detective. Anyone could have been a murderer, if an actual murder did take place.
Ultimately it is a mix of Johnson's direction and the cast that make "Knives Out" work so well. If you can get past Craig's silly southern accent, he seems to really be sinking his teeth into the role. Evans is really, great and playing a jerkish character here. He is more Johnny Storm than Steve Rogers here (for Marvel fans only). It's also nice to see Don Johnson thrown into the mix as Linda's husband. We also get a small "Star Wars" reunion with Yoda himself, Frank Oz showing up for a bit part.
If you are in the mood for a good mystery and a funny dark comedy, then this is the perfect dysfunctional family film that you can enjoy Thanksgiving weekend. It is also one of the few films being released that might be universally enjoyed by the whole family (over the age of 13). Make sure to carve out some time to see "Knives Out".
By: Marc Ferman