Robocop (Limited Edition): Blu-Ray Review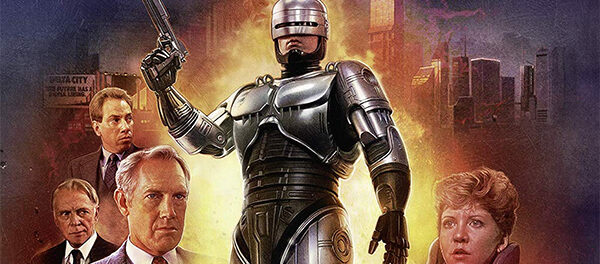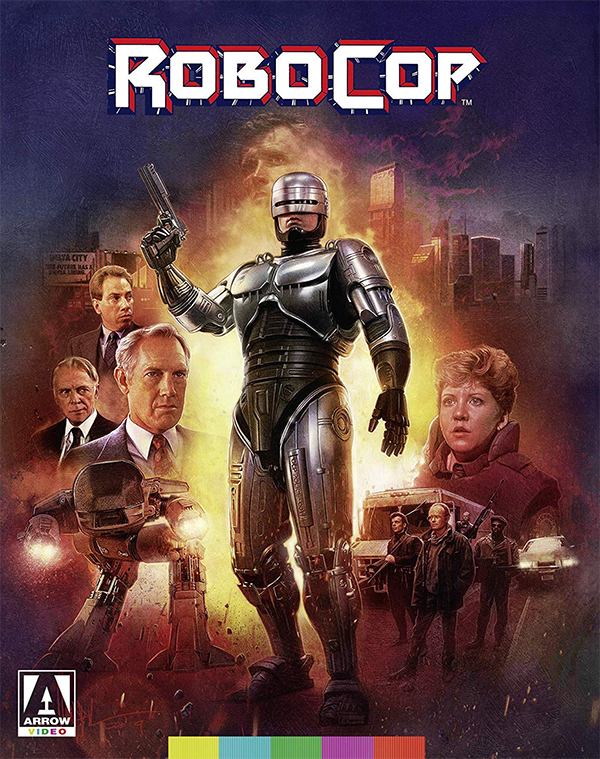 Arriving this week on Limited Edition 2-disk Blu-ray is what might possibly be my absolute favorite home video release of 2019, "Robocop". Sure, I have owned numerous reissues of this film, since I am a major fan, however, this edition from Arrow Video is beyond incredible. It makes total sense that they would want to release this set just days before the 2019 holiday shopping season officially begins. This comes just a month after what would be my second favorite release of the year, Arrow's "An American Werewolf in London".
Very little needs to be said about the film itself, if you have never seen the original 1987 film, you are missing one of the greatest pieces of modern science fiction ever created. It is violent, gruesome, funny, and extremely intelligent. It is a product of its time and still very relevant today.
The 4K restoration, which was approved by Paul Verhoeven in 2013 looks and sounds fantastic. In fact, the picture is so clear, that we can see the wire used for ED-209's firing rocket very clearly. Unfortunately, that is one of the very few things I am not a fan of when it comes to such a clean looking transfer. Despite that one minor issue, "Robocop" has never looked better.
As of writing this, I have yet to get through all-of-the bonus features. As you can see below, Arrow packed this release to the brim with so much content that finding the time to get to all of it will be a challenge. Aside from the theatrical cut and the much bloodier director's cut, we are given a-number-of featurettes, new and vintage commentaries, deleted scenes, and a standard definition presentation of the edited-for-television version with alternate scenes. Included in the packaging is a double-sided poster, collector's postcards and my personal favorite, a Limited Edition collector's booklet.
If You are a fan of "Robocop", then I highly recommend you ad this to your collection. If you have a friend or family member that loves this film, it also will make for a fantastic gift (even if they already own an older issue of the film).
Bonus Materials
4K restoration of the film from the original camera negative by MGM, transferred in 2013 and approved by director Paul Verhoeven
Newly commissioned artwork by Paul Shipper
Director's Cut and Theatrical Cut of the film on two High Definition (1080p) Blu-ray™ discs
Original lossless stereo and four-channel mixes plus DTS-HD MA 5.1 surround sound option on both cuts
Optional English subtitles for the deaf and hard of hearing on both cuts
Six collector's postcards (Limited Edition exclusive)
Double-sided, fold-out poster (Limited Edition exclusive)
Reversible sleeve featuring original and newly commissioned artwork
Limited edition collector's booklet featuring new writing on the film by Omar Ahmed, Christopher Griffiths and Henry Blyth, a 1987 Fangoria interview with Rob Bottin, and archive publicity materials (some contents exclusive to Limited Edition)
Archive commentary by director Paul Verhoeven, executive producer Jon Davison and co-writer Ed Neumeier (originally recorded for the Theatrical Cut and re-edited in 2014 for the Director's Cut)
New commentary by film historian Paul M. Sammon
New commentary by fans Christopher Griffiths, Gary Smart and Eastwood Allen
The Future of Law Enforcement: Creating RoboCop, a newly filmed interview with co-writer Michael Miner
RoboTalk, a newly filmed conversation between co-writer Ed Neumeier and filmmakers David Birke (writer of Elle) and Nick McCarthy (director of Orion Pictures' The Prodigy)
Truth of Character, a newly filmed interview with star Nancy Allen on her role as Lewis
Casting Old Detroit, a newly filmed interview with casting director Julie Selzer on how the film's ensemble cast was assembled
Connecting the Shots, a newly filmed interview with second unit director and frequent Verhoeven collaborator Mark Goldblatt
Composing RoboCop, a new tribute to composer Basil Poledouris featuring film music experts Jeff Bond, Lukas Kendall, Daniel Schweiger and Robert Townson
RoboProps, a newly filmed tour of super-fan Julien Dumont's collection of original props and memorabilia
2012 Q&A with the Filmmakers, a panel discussion featuring Verhoeven, Davison, Neumeier, Miner, Allen, star Peter Weller and animator Phil Tippett
RoboCop: Creating a Legend, Villains of Old Detroit and Special Effects: Then & Now, three archive featurettes from 2007 featuring interviews with cast and crew
Paul Verhoeven Easter Egg
Four deleted scenes
The Boardroom: Storyboard with Commentary by Phil Tippett
Director's Cut Production Footage, raw dailies from the filming of the unrated gore scenes
Two theatrical trailers and three TV spots
Extensive image galleries
Archive commentary by director Paul Verhoeven, executive producer Jon Davison and co-writer Ed Neumeier (originally recorded for Theatrical version of the film)
Two Isolated Score tracks (Composer's Original Mix and Final Theatrical Mix) in lossless stereo
Edited-for-television version of the film, featuring alternate dubs, takes and edits of several scenes (95 mins, SD only)
Split screen comparison of Theatrical and Director's Cuts
RoboCop: Edited For Television, a compilation of alternate scenes from two edited-for-television versions, newly transferred in HD from recently-unearthed 35mm elements
By: Marc Ferman