Little Monsters (Collector's Series): Blu-Ray Review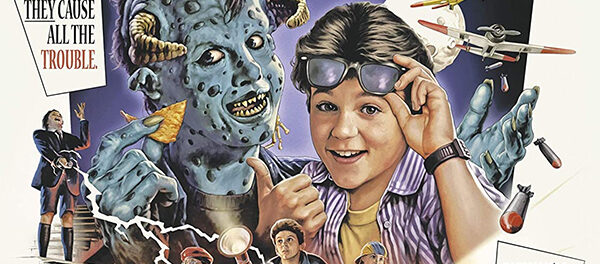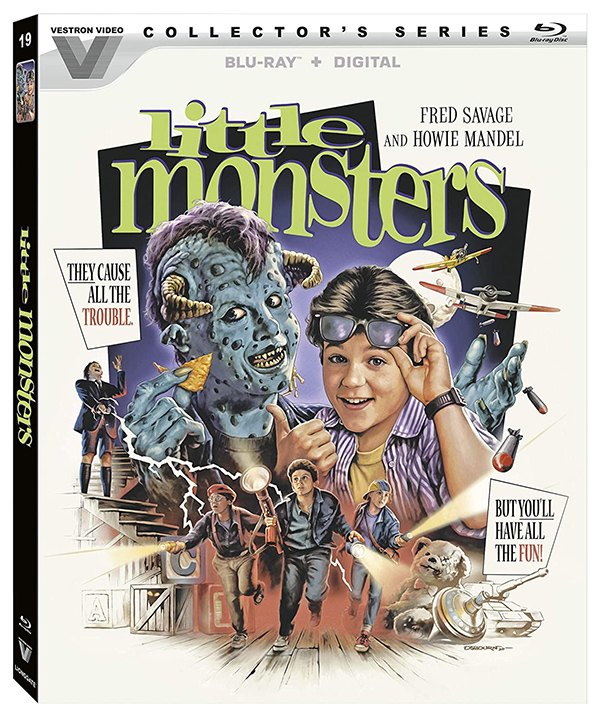 The 80's saw a number of great family films that had no trouble going a bit dark. Titles like The Dark Crystal, The Neverending Story and Gremlins delivered many moments that might have induced nightmares onto the young ones. 1989 saw the release of Richard Alan Greenberg's Little Monsters and that film was a totally different kind of nightmare.
Now available for the first time on Blu-ray, courtesy of Vestron Video Collector's Series, Little Monsters centers on Brian (Fred Savage) a new-kid-in-town who is having a hard time making friends. His younger brother Eric (played by Fred's real-life brother Ben Savage) as already made a friend himself. When Eric believes he saw a monster in his room, he bribes Brian to switch bedrooms for the night. In comes Maurice (Howie Mandel), a fun-loving monster that turns out to be the one causing problems around the house at night, in which Brian was being blamed for. After Brian successfully captures Maurice, he decides to free the monster who has a deathly reaction to sunlight. With Brian and Maurice now friends, the two travel down to the underworld where all the monsters who terrify children at night live.
Although there is a large group of people who grew up loving Little Monsters, this is a bad, cheaply made and often unsettling film aimed at younger viewers. If I was to describe Little Monsters in one sentence, I would say it is Hellraiser for the pre-teens. Sure, not bloody, but almost as disturbing. Granted, being a horror fan, this would normally be my kind of gateway horror film, but I was already entering high school when it was first released.
As for the transfer itself, despite being extremely dark in many scenes taken place in the monster's world, it is still a great looking picture. Maurice looks especially good here with his blue skin really popping. If you are a fan of the movie, this will most likely be the best looking version of it you will ever see. There are also plenty of new interviews with Howie Mandel, composer David Newman, producer Andrew Licht and makeup effects artist Robert Short.
Special Features:
*NEW* Audio Commentary with Jarret Gahan, Editor-in-Chief of CultofMonster.com
*NEW* Isolated Score Selections and Audio Interview with Composer David Newman
*NEW* "Call Him Maurice" – An Interview with Actor Howie Mandel
*NEW* "Beneath the Bed" – An Interview with Producer Andrew Licht
*NEW* "Monsters Big & Small" – An Interview with Special Makeup Effects Creator Robert Short
*NEW* Vintage Interviews with Actors Fred Savage, Ben Savage, Special Makeup Effects Creator Robert Short, and Director Richard Alan Greenberg
Behind-the-Scenes Footage
"Making Maurice" – Vintage Footage of Howie Mandel's Makeup Transformation
Vintage EPK & VHS Promo
Theatrical Trailer
Still Gallery
By: Marc Ferman