Mallrats (Special Edition): Blu-Ray Review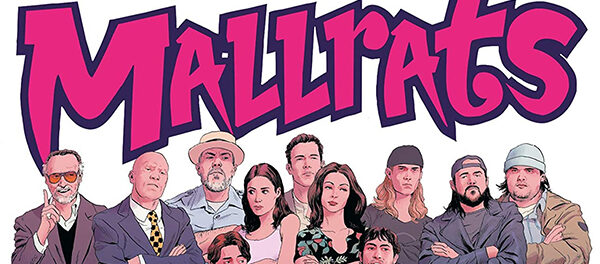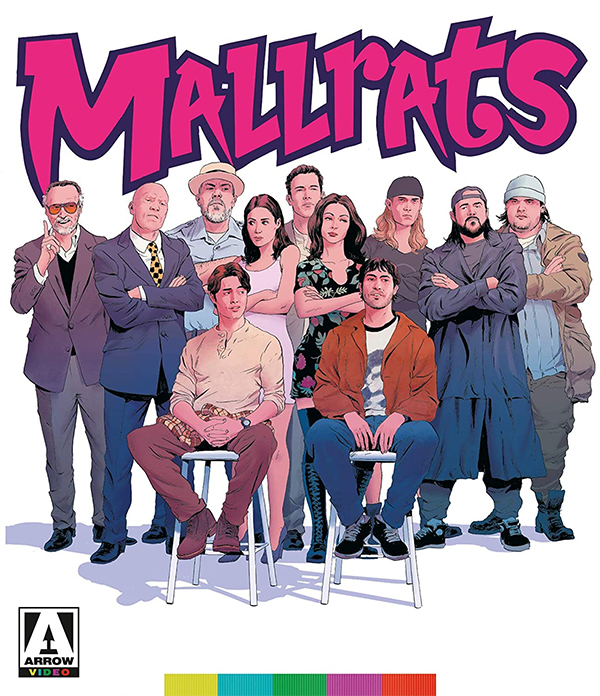 A year after Kevin Smith grabbed the attention of Hollywood with his 1994 breakout indie film Clerks, he was given an actual budget to make a film for Universal Pictures. This time, instead of a couple of immature guys hanging out at a convenience store and video store, Smith brought us a larger group of immature young adults that hang out in a shopping mall. This film is 1995's Mallrats. Being a big fan of the filmmakers first feature, I was quick to see his sophomore effort opening weekend. I even remember going to see it while I was on vacation in Seattle. Although Mallrats doesn't get the same kind of love as Clerks (or even Clerks II), I still have a deep fondness for the picture.
For those who are unfamiliar with Mallrats, the story centers on TS (Jeremy London) and his best friend Brodie (Jason Lee). Both men have been dumped by their fed-up girlfriends Brandi (Claire Forlani) and Rene (Shannen Doherty). To deal with their frustrations, they do what almost every other teenager in the mid-90's did.  They went to the mall. It turns out that a dating came rip-off show is being taped that day at the mall and thanks to Brandi's TV producer father Mr. Svenning (Michael Rooker), his daughter is the star of the show. With the help of Jay and Silent Bob (Jason Mewes and Kevin Smith respectively), TS and Brodie devise a plan to ruin the show and get their girlfriends back. Brodie also has to deal with the jerky manager of Fashionably Male, Shannon (Ben Affleck) who has his own plans for Rene.
As-long-as you do not watch the painfully offensive extended cut of Mallrats, there is so much here to enjoy. Stan Lee's cameo here is much better than any of the ones in the MCU. I would love to see Smith return to this world or create similar types of stories with a younger cast. It also seems like a sequel to the original film is finally in the works after a few false starts. I am definitely excited about that.
The original 35mm camera negative as well as the interpositive element were scanned in 4K, The restoration was approved by Kevin Smith and DP David Klein. Although the original Blu-ray from Universal looks fine on its own, there is a very noticeable improvement with Arrow's release and should please fans of the film. I knew when Arrow first announced this release that the filmmaker would really help make this thing sing when it came to bonus materials and the two-disk set comes stacked. For those of us who simply like listening to Smith talk, there is no shortage of that either. When it comes down to it, Arrow Video's Mallrats is a must buy for any View Askew fan.
Bonus Materials:
LIMITED EDITION CONTENTS
Brand new restoration by Arrow Films of both the Theatrical and Extended cuts of the film, approved by director Kevin Smith and cinematographer David Klein
Newly assembled TV cut of the film featuring hilarious overdubbing to cover up profanity
High Definition (1080p) Blu-ray presentations
Collector's booklet featuring new writing by Philip Kemp
Fold out poster featuring replica blueprints for 'Operation Drive-by' and 'Operation Dark Knight'
DISC ONE – THEATRICAL AND EXTENDED CUTS
Original DTS-HD MA 5.1 surround audio
Optional English subtitles for the deaf and hard of hearing
Audio commentary with director Kevin Smith, producer Scott Mosier, archivist Vincent Pereira, and actors Jason Lee, Ben Affleck, and Jason Mewes
Brand new introduction to the film by Kevin Smith
My Mallrat Memories – and all-new interview with Kevin Smith
A newly filmed tribute to producer Jim Jacks by Kevin Smith
Brand new interview with actor Jason Mewes
Brand new interview with Cinematographer David Klein
Hollywood of the North: A newly produced animated making-of documentary featuring Minnesota crew members who worked on the film
Deleted Scenes – Kevin Smith and Vincent Pereira discuss deleted scenes and sequences originally cut from the film
Outtakes and behind the scenes footage
Cast interviews from the original set
Erection of an Epic: The making of Mallrats – archival retrospective with cat and crew looking at the making and release of the film
Q&A with Kevin Smith – archival Q&A filmed for the 10th anniversary
Build Me Up Buttercup music video
Stills galleries
Theatrical Trailer
DISC TWO – TV CUT
Newly assembled TV cut of the film featuring hilarious overdubbing to cover up profanity
Original stereo audio
Optional English subtitles for the deaf and hard of hearing
Brand new introduction to the TV cut by director Kevin Smith
Stills gallery of the comic books featured in the film's opening sequence
Easter eggs
By: Marc Ferman