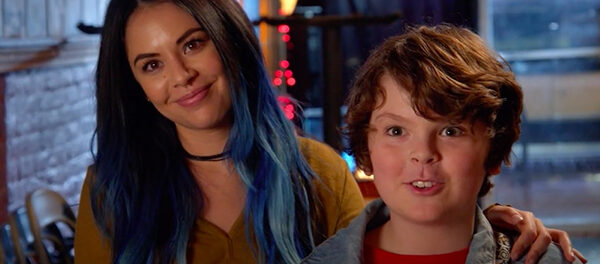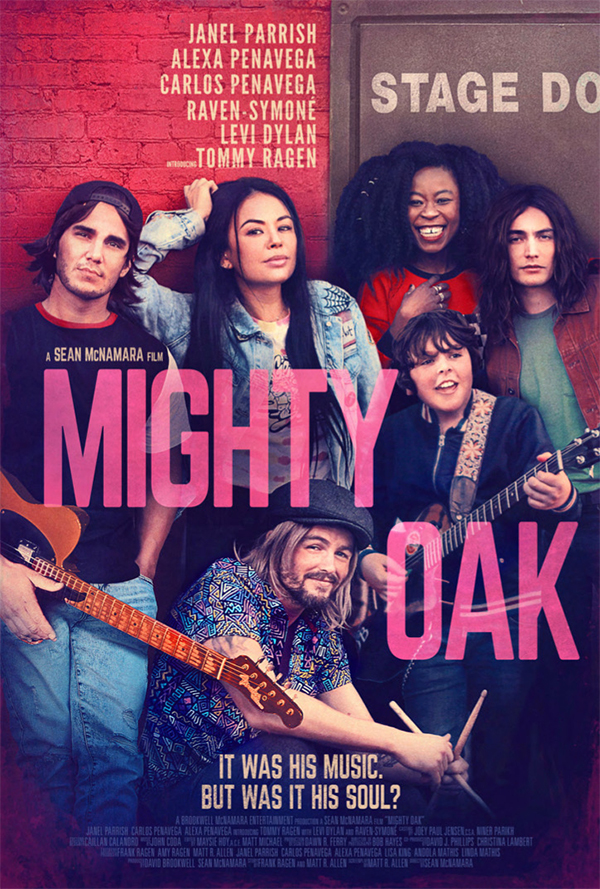 The plot for "Mighty Oak" is a bit of a strange one for a family film.  When the lead singer for a Los Angeles rock band dies in a car accident, a young boy who seemingly has the soul of the deceased artist, shows up a decade later to help reunite that band. It's not a bad idea for a movie, but I felt it would of worked much better if writer Matt Allen and director Sean McNamara ("Soul Surfer") didn't play thing so light.
Early on in "Mighty Oak", the band, Army of Love get into a major car accident that winds up throwing, lead singer Vaughn Jackson (Levi Dylan) through the front windshield and onto the street. His sister Gina (Janel Parrish) holds his lifeless body in her arms as she screams in agony (Did I mention this is a family film?). Granted, the accident isn't graphic, so older kids can handle it. Cut-to 10 years later. Gina is a depressed gambler who still can't come to terms with her brother's death and the rest of the band which include Pedro (Carlos PenaVega), Darby (Ben Milliken) and Alex (Nana Ghana) are all working dead-end jobs.
Oak Scoggins (Tommy Ragen) is a 10-year-old who loves music. When Gina first sees Oak playing her late-brother's guitar next to her former bandmate/love interest, Pedro, she believes that the kid is Vaughn reincarnated. Although, the rest of the band doesn't feel the same, they are totally open to playing with Oak because he has a natural talent. Although it may seem like a gimmick to have a band that consists of adults with a prepubescent frontman, they soon develop fans and the attention of music critic Taylor Lazlo (Raven-Symoné).
"Mighty Oak" could have gone the full family route and kept things totally light, but the decision was made to give Oak's mother (Alexa PenaVega) a debilitating illness that just feels forced.  Despite my issues with the film, I did like the cast and they help keep things moving along. Newcomer Tommy Ragen is charming as young Oak and Carlos PenaVega delivers plenty of charisma as Pedro, Oak's band mate and mentor. The music is serviceable although not very memorable. Grief and loss are two topics that are dealt with, but I didn't feel either was handled effectively. Not terrible, but not very good either, "Mighty Oak" is mildly entertaining.
"Mighty Oak" will premiere on digital platforms July 7th.
By: Marc Ferman