Phenomena (Special Edition): 4K UHD Review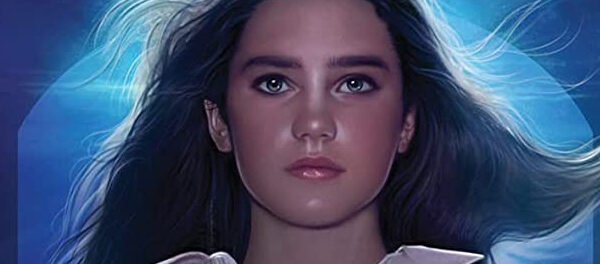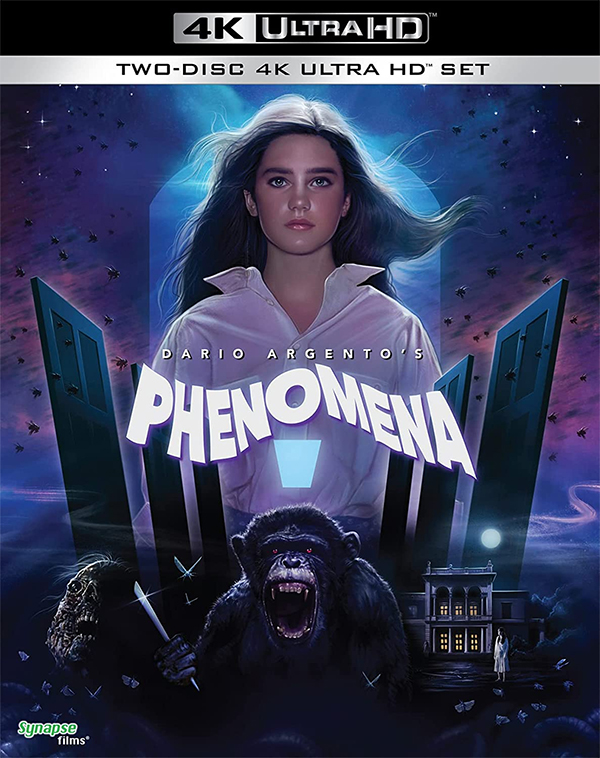 Last year Synapse Films released a Limited Edition 4K UHD od Dario Argento's 1985 horror film, Phenomena. While that was limited to only 6,000 units, the new 2-disk UHD set is a full release and includes all the same content. The set includes three cuts of the film. We get the Italian version (116 minutes), the International version (110 minutes) and the US version (83 minutes). The latter was re-titled Creepers and is the version I saw as a kid. If I had to pick a favorite cut, it would be the International one, which works slightly better for me than the Italian one. While I did enjoy the Creepers version when I was younger, it wasn't until I saw the other cuts that I realized how much was missing.
Jennifer Corvino (Jennifer Connelly) is the daughter of a famous movie star. While he is on location shooting his latest film, Jennifer is sent to a school for girls in Switzerland. The teenager is not too happy about being away from her father and also being shipped off to a strange place, all alone. To make matters worse, Jennifer suffers from a sleepwalking condition, which results in her being alienated by other students and staff. She also witnesses a murder.
Neither the students or staff particularly like Jennifer, which is strange because she seems like the nicest person there, she does befriend Professor John McGregor (Donald Pleasence), a entomologist, who is helping the police with their investigations. His only friend is a monkey that is also his live-in nurse. The Professor helps Jennifer figure out that she has a powerful telepathic ability that allows her to communicate with insects. Those abilities just might help her discover the identity of the killer.
Synapse delivers a beautiful 2160p UHD 4K transfer with Dolby Vision. Just like with much of Argento's work, Phenomena is a stunning film and is greatly benefited by a 4K restoration. From the Switzerland countryside to the girl's school interiors, everything looks detailed and crisp. While this isn't one of the filmmaker's more visually vibrant films, the moody atmosphere really ads to the narrative. All three cuts of the film include a DTS-HD 5.1 audio track and it sounds great. The score has always been a major deal when it came to Argento's films, and the music provided by Goblin doesn't disappoint. While the audio track didn't blow me away, it still sounds quite good. If you are a fan of the filmmaker, this release is definitely worth picking up.
Bonus Materials:
4K (2160p) UHD Blu-ray™ presentations in Dolby Vision (HDR10 compatible)
New 4K restorations of all three versions of Phenomena, including the original Italian version (116 mins.), the International cut (110 mins.), and the U.S. "Creepers" cut (83 mins.)
Lossless English DTS-HD Master Audio 5.1 and 2.0 stereo soundtracks on the international version, derived from the original 4-channel Dolby Stereo elements
Rare alternate DTS-HD Master Audio 2.0 stereo mix on the international version, featuring different sound effects and music cues
Lossless Italian DTS-HD Master Audio 5.1 and 2.0 stereo soundtracks, derived from the original 4-channel Dolby Stereo elements
Lossless English DTS-HD Master Audio 1.0 mono and 2.0 'stereo music version' soundtrack on Creepers, mastered from the original 3 track DME magnetic mix
Lossless "hybrid" English/Italian DTS-HD Master Audio 5.1 soundtrack
Optional English subtitles for the deaf and hard of hearing
English subtitles for the Italian soundtrack
Optional English subtitles for the deaf and hard of hearing for the hybrid soundtrack
S. theatrical trailer and radio spots for 'Creepers'
Original Italian and international theatrical trailers
Audio commentary by Troy Howarth, author of Murder by Design: The Unsane Cinema of Dario Argento (on Italian Version)
Audio commentary on the international version by Argento scholar and author Derek Botelho and film historian, journalist and radio/television commentator David Del Valle
Of Flies and Maggots, a feature-length 2017 documentary produced by Arrow Films, including interviews with co-writer/producer/director Dario Argento, actors Fiore Argento, Davide Marotta, Daria Nicolodi and others…
The Three Sarcophagi, a visual essay by Arrow Films producer Michael Mackenzie comparing the different cuts of Phenomena
"Jennifer" music video, directed by Dario Argento
Slipcover/o-card with beautiful artwork from artist Nick Charge
Reversible cover with original Italian PHENOMENA art
By: Marc Ferman