Split Second (Collector's Edition): Blu-Ray Review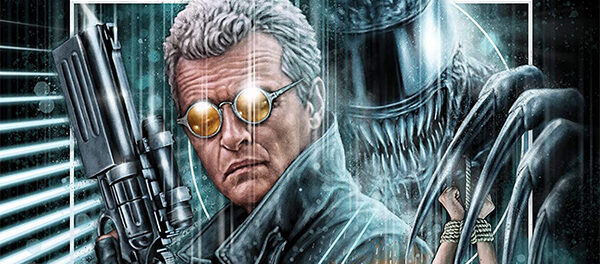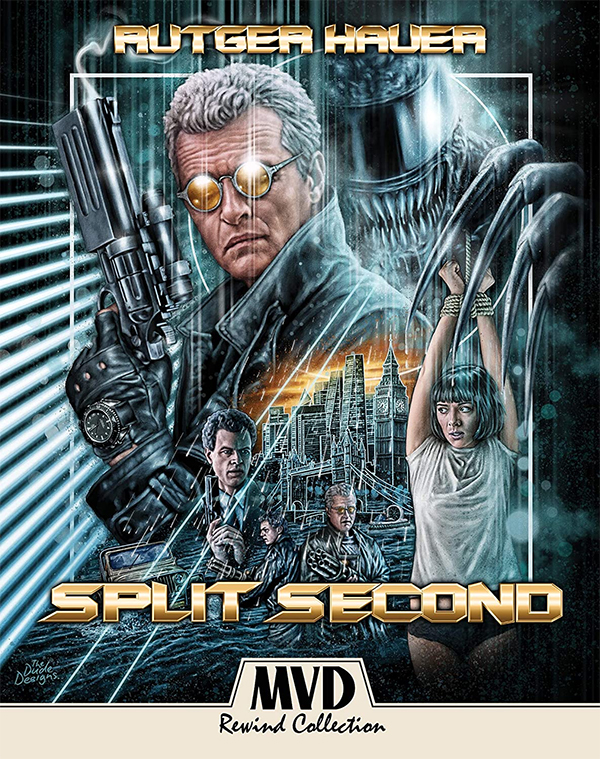 1992's Split Second is a film I remember seeing upon its theatrical release, but I don't believe I have revisited the film since then. That time period was a decent one for Predator/Alien knock-offs and buddy cop action films. What writer Gary Scott Thompson and director Tony Maylam attempted to do was mix the two genres and the end result was middling at best. That doesn't mean Split Second doesn't work on some level. It does have a couple things going for it and thanks to MVD Rewind, it is now available on Blu-ray in the United States for the first time.
Detective Harley Stone (Rutger Hauer) is on the hunt for a serial killer that took the life of his partner and then vanished, until years later. Like most lone-wolf movie cops of the time, he lives in a total dump. His diet consists of smokes and junk food (this time it is chocolate and coffee). He is also now assigned a new partner by his captain and of course, they are complete opposites.  Stone's new partner is Detective Dick Durkin (Alastair Duncan), a student higher education that seems to have the answers to most of the questions that come up. Together they search the flooded city (due to global warming) for a killer that might not even be human.
What Split Second lacks in originality more than makes up for in utter stupidity. This is a film that had a very troubled production from the get-go and the fact that it even makes the least bit amount of sense it a miracle. Yet, for all of its many flaws, there are elements that I was able to appreciate. For one, Hauer keeps things entertaining, even if he is just being moody and angry most of the time.  The other is that the flooded sets do a great job adding to the dark and eerie tone of the film.
Reviewing the Blu-ray is a bit tough because of how the film looks in general. This is a new 1080p HD transfer that has been restored in 4K off the 35mm internegative. However, because so much of the film's action is set in dark locations, it is a movie that just never looked good. Still the transfer does look decent and I can't imagine the film looking any better than it does here. I have never seen the UK Blu-ray release but from what I have heard, this one from MVD is a definite improvement.
For fans of Split Second, where this release truly shines is in its bonus content. There are new interviews with producer Laura Gregory, actor Alastair Duncan, composer Stephen W. Parsons, line producer Laurie Borg, creature effects designer Cliff Wallace and cinematographer Clive Tickner. Also included in the Japanese cut of the film, which doesn't make much of a difference. However, the character of Durkin's girlfriend, Robin (Roberta Eaton) is introduced on screen. In the US cut, she was only mentioned.  The Japanese cut does include subtitles.  MVD Rewind has put together a strong release for Split Second and for those who enjoy the film, I strongly recommend picking it up.
Special Features:
High Definition (1080p) presentation of the main feature in its original 1.85:1 aspect ratio, newly scanned, restored and color graded in 4K from the 35MM internegative
Audio: 2.0 LPCM Stereo
English Subtitles
NEW! Audio Commentary by action film historian Mike Leeder and filmmaker Arne Venema
NEW! "Great Big Bloody Guns!" Producer Laura Gregory & Actor Alastair (Neil) Duncan on Split Second (HD, 27:25)
NEW! "Call Me Mr. Snips!" An Interview with Composer Stephen W. Parsons (HD, 22:21)
NEW! "Stay In Line!" An Interview with Line Producer Laurie Borg (HD, 23:02)
NEW! "More Blood!" An Interview with Creature Effects Designer Cliff Wallace (HD, 32:03)
NEW! "Shoot Everything!" An Interview with Cinematographer Clive Tickner (HD, 18:57)
Original 1992 Split Second "Making of" featurette that includes interviews with stars Rutger Hauer, Kim Cattrall, Alastair (Neil) Duncan, Michael J. Pollard, Writer Gary Scott Thompson and more! (SD, 6:26)
Original 1992 behind the scenes featurette with effects creator Stephen Norrington, cast and crew (SD, 3:41)
Split Second Japanese Cut, full frame with burnt-in Japanese subtitles (SD, 95:00)
Deleted Scenes from the Japanese Cut (English, burnt-in Japanese subtitles) (SD, 4:42)
7 Promotional TV Clips (SD)
S. VHS Home Video Promo (SD, 2:34)
Theatrical Trailer (SD, 2:15)
MVD EXCLUSIVE: Reversible sleeve featuring original and newly commissioned artwork by The Dude Designs created exclusively for this release
Collectible Mini-Poster featuring original VHS style artwork
By: Marc Ferman