Flash Gordon (Limited Edition): 4K Ultra HD Review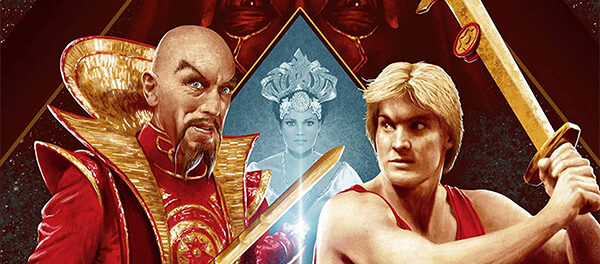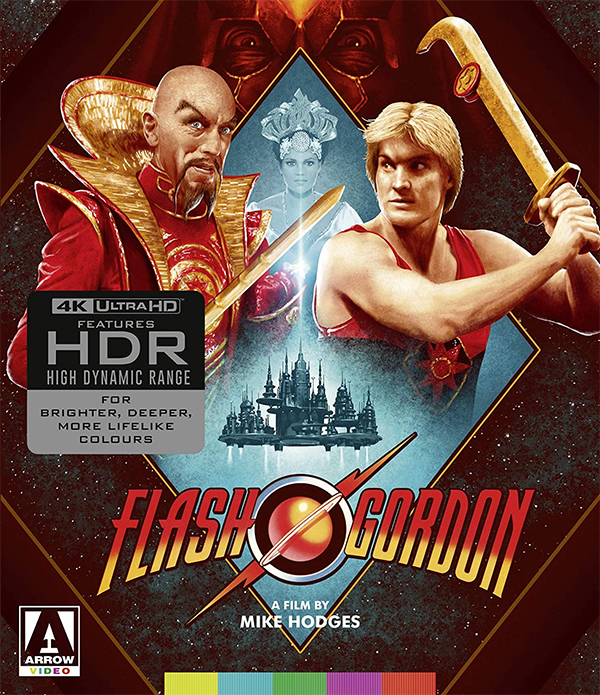 Last month the 1980 sci-fi cult classic, Flash Gordon arrived on 4K UHD in an I must say it is most impressive. Arrow Video without question showed this film the love it so richly deserves on its 40th anniversary.  Let me start off by saying that if you are a Flash Gordon fan like myself, I highly suggest investing in the Limited Edition release of either the 4K UHD or the Blu-ray to make sure you are getting the vast array of bonus content. If you are someone who enjoys all of those extra features, it might be worth the extra cash, as the standard edition Blu-ray release does not include the second disk.
Flash Gordon is unquestionably one of the cheesiest science fiction films to come out of the 80's and I mean that in a good way. For those who might not know this, George Lucas originally wanted to make a Flash Gordon film but was unable to secure the rights, so he decided to write and direct his own sci-fi serial, Star Wars. Now, I am pretty, sure a George Lucas film based on the classic hero would have been cool, but now we live in a world with both Flash Gordon and Star Wars and I would not change a thing.
For those unfamiliar director Mike Hodges' film, the story follows football player Flash Gordon (Sam J. Jones), along with Dale Arden (Melody Anderson) and Dr. Hans Zarkov (Topol), who journey to the planet Mongo after earth is attacked by the galactic tyrant Ming the Merciless (Max Von Sydow). Flash and his friends must find a way to stop the evil emperor and save their world from destruction. Flash Gordon has almost everything you would want in an epic sci-fi fantasy made released in the 80's.  We get cheesy acting, cheesy effects, an army of flying hawk people, our hero on a flying jet ski, Timothy Dalton, oh and did I mention flying hawk people? Yeah, I know I did, but I had to mention them again.
Admittedly, the original Universal Flash Gordon Blu-ray release felt good enough for me at the time. It looked and sounded great and I was more than happy with it. Having now seen what Arrow has put together, this new 4K restoration by Studiocanal from the 35mm camera negative is a vast improvement. The vibrant colors pop off the screen, especially in scenes in which the bright alien sky is used as the background.  The DTS-HD Master Audio 5.1 mix also quite nice, obviously I was turning things up for the opening track by Queen.
The Limited Edition release of Flash Gordon is packed with extras, though the two things that stand out most for me are the collectable booklet and the inclusion of Lisa Downs' Life After Flash documentary. If you are a fan of the film, I can't recommend this release enough.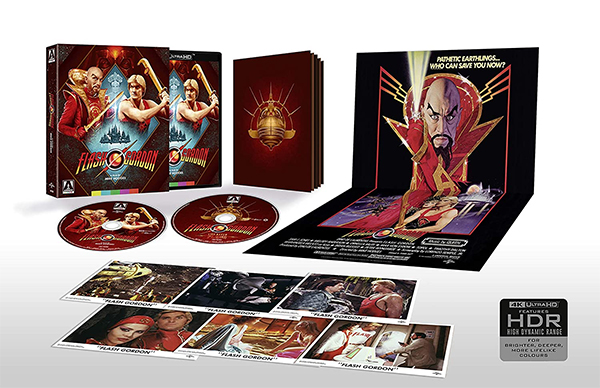 BONUS MATERIALS:
Brand new 4K restoration by Studiocanal from the original camera negative approved by director Mike Hodges
4K (2160p) UHD Blu-ray presentation in Dolby Vision (HDR10 compatible)
Optional 5.1 and 2.0 stereo DTS-HD Master audio
Booklet featuring new writing on the film by critics and film historians including Neil Snowdon, Dennis Cozzalio, John-Paul Checkett, A.K. Benedict, and Kat Ellinger illustrated with original stills
Fold-out double-sided poster featuring original and newly commissioned artwork
Six double-sided, postcard-sized lobby card reproductions, alternative posters and promotional images
Limited Edition packaging with reversible sleeve featuring original and newly commissioned artwork by Adam Rabalais
DISC 1 – FLASH GORDON & SPECIAL FEATURES (4K ULTRA HD BLU-RAY)
Archival audio commentary with Mike Hodges
Archival audio commentary with Brian Blessed
Interviews with actors Sam J. Jones, Melody Anderson, Brian Blessed, Queen icon Brian May, composer Howard Blake, and poster designer Renato Casaro
Behind the Scenes of Flash Gordon – an archival documentary on the making of the film
Archival interviews with Mike Hodges, screenwriter Lorenzo Semple Jr., comic book artist Alex Ross
Lost in Space: Nic Roeg's Flash Gordon – a new documentary program exploring the version Roeg (The Man Who Fell to Earth) had originally planned to make with producer Dino De Laurentiis
Gremlin's Finest Hour – an episode from the animated Flash Gordon TV show written by J. Michael Reaves from November 1982
Deleted scenes and original endings – prop collector Bob Lindenmayer discusses dropped sequences and sequel ideas
35th Anniversary Greenroom featurette – Mike Hodges meets the cast for the first time since filming at the 35th anniversary reunion
35th Anniversary Reunion featurette – the cast and crew discuss Flash Gordon
Entertainment Earth on Flash Gordon merchandise
Storyboards gallery
Stills gallery
Original Trailer
Easter Eggs
DISC 2 – LIFE AFTER FLASH & SPECIAL FEATURES [LIMITED EDITION EXCLUSIVE] (BLU-RAY)
2017 feature length documentary by filmmaker Lisa Downs on the rollercoaster life of Sam J. Jones since his role in Flash Gordon, featuring the main cast and crew as well as a host of fans including Stan Lee, Robert Rodriguez, Mark Millar and more!
Sam J. Jones – a variety of interviews and featurettes including coverage of a script read from the Chattanooga Film Festival, Sam discussing his career in Mexico, his "prayer walk", and more
Melody Paintings Extended – actress Melody Anderson talks about her love of painting and talks about various pieces displayed in her home
Topol – a variety of interviews with the actor on his collections, awards and charity work
Brian Blessed – the actor recounts amusing stories about Flash Gordon
Late, Great Wyngarde – actor Peter Wyngarde discusses his experiences filming Flash Gordon and his relationship with Mike Hodges
Deep Roy – the actor raps about ambition and recounts an amusing story about Eastbound & Down
Alex Ross Talks Early Art – the artist talks about Flash Gordon and the many pieces of art he created for it from childhood to modern day
Tell Me More About the This Man Houdini – actor Rich Fuller and Jason Lenzi, founder of toy brand Bif Bang Pow, discuss a scene from Flash Gordon
Comic Con early draft – A featurette looking at the phenomenon that is Comic Con, featuring interviews with attendees and a host of regular talent including Sam J. Jones, Rich Fulton, Jason Mewes, Michael Rooker, Claudia Wells, and more
Interview with Lisa Downs – the director of Life After Flash explores her motivation to make the film and experiences during the production
Life After Flash on the Road – a variety of featurettes on the film travelling to various festivals and production including Q&A excerpts with the Flash Gordon cast, behind-the-scenes footage, Kickstarter funding video
Trailer
By: Marc Ferman