Splitting Heirs (Retro VHS Cover): Blu Ray Review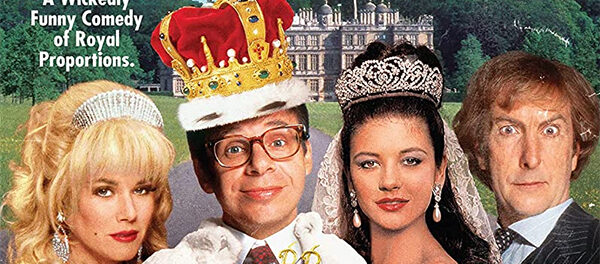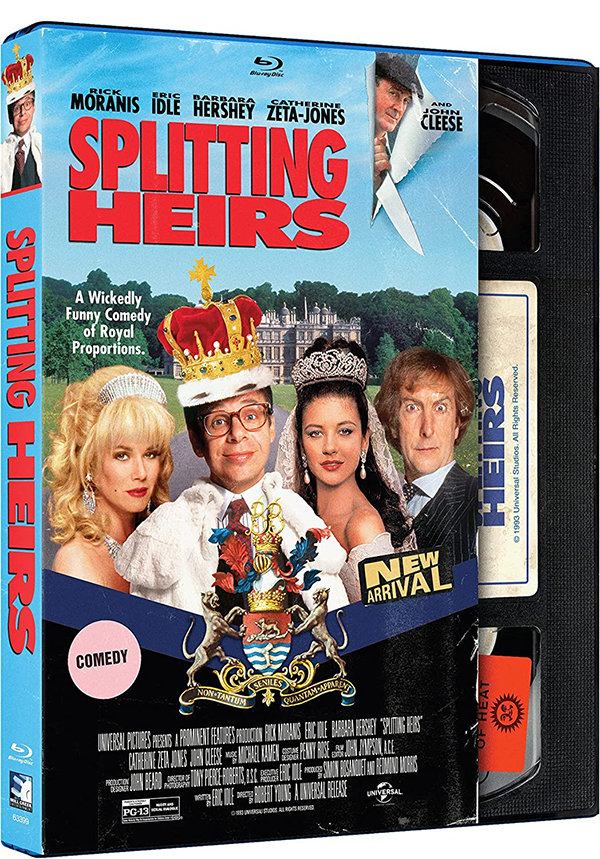 The 1993's Splitting Heirs makes its' way onto Blu-ray for the very first time. The black-comedy was directed by Robert Young and written by Monty Python alum Eric Idle, who also stars along side Barbara Hershey, Katherine Zetz-Jones, John Cleese and Rick Moranis. Unfortunately, even with the talented cast and experienced writer, Splitting Heirs manages to be one of the unfunniest comedies of the 90's.
As the story begins, the Duke of Bournemouth and his American wife mistakenly leave their baby in a restaurant.  I am sure this is a common problem that plagues royalty. When they realize that they forgot their little boy, they head back to the eatery, but he is nowhere to be found.  What do the Duke and Duchess do? Well, they take the only other baby left at the police station (knowing it isn't theirs) and raise him as their own.
Cut to many years later, Tommy Patel (Eric Idle) befriends his new boss Henry (Rick Moranis) who also happens to be the first American Duke of Bournemouth. However, it doesn't take long for Tommy to realize that he was in fact the missing baby and it is he who is supposed to be the current Duke. Completely jealous that Henry is living the life that Tommy should be living, he decides to try and cause the Duke to have an accident which would help him become royalty. Unfortunately, he continues to fail at taking out Henry.
Splitting Heirs is basically a British version of Trading Places, but without the charm, heart and laughs. I actually completely forgot this film even existed until it was given this Blu-ray release. I have always been a fan of Rick Moranis and it's nice to seem him play a character that is a little less geeky and a little more slimy car salesman. I felt like John Goodman had a little more going for him as the American turned Brittish Royalty in King Ralph. This is mark Zeta-Jones first major role in a feature film and she actually is quite good here. However Barbara Hershey gives one of the most cringe-worthy performances as Tommy's real Duchess mother, who keeps trying to seduce her son (even though she doesn't know he is her son). Sadly, very little works and Splitting Heirs.
By: Marc Ferman