The Croods: A New Age – Movie Review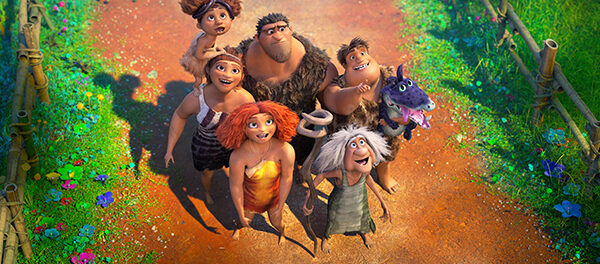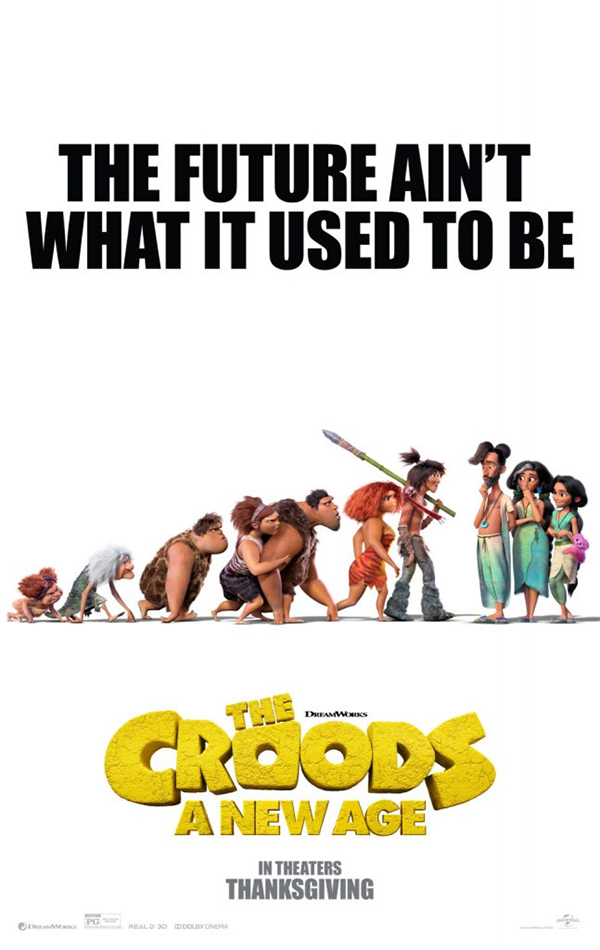 It's been seven years since The Croods arrived in theaters. That seems like quite a long time to wait for a sequel to an animated film that wasn't all that memorable. We had to wait almost double the time for a sequel to The Incredibles but that film was a beloved classic. I wasn't a big fan of The Croods when it was released. I thought it was fine for a family film but I barely remember anything about it.  Obviously, I didn't have any high hopes for The Croods: A New Age. Surprisingly, I found myself enjoying the sequel quite a bit, thanks to some clever writing and the great voice cast (most of whom return from the original).
The Crood family is back for an all new adventure. There is Grug and Ugga (voiced by Nicolas Cage and Catherine Keener respectively), their son Thunk (Clark Duke), daughter Eep (Emma Stone), her boyfriend Guy (Ryan Reynolds) and Gran (Cloris Leachman). The family is just as close as always, however Guy feels it is time for him and Eep to venture out on their own to start their own family. When Grug overhears the young lovebirds talking, he begins to fear the family might be breaking apart.
Those fears are put on hold when the family discovers a beautiful pre-historic gated community, which is inhabited by the Betterman family. There is Hope (Leslie Mann), her husband Phil (Peter Dinklage) and their daughter Dawn (Kelly Marie Tran). The Betterman's were friends with Guy's parents before they passed away and they believe he is the right suiter for Hope. The Betterman's plan is to lure Guy away from Eep, which would allow him to reconnect with his childhood friend Dawn. Hope and Phil look down upon the Croods, seeing them as dirty cave people with no understanding of civilization. Of course, their last name, implies that they are better than everyone else.
The Croods: A New Age is not only fun and entertaining, but it is also visually striking. Joel Crawford who was a story artist on the Kung-Fu Panda series makes his directorial debut here. Things move along quickly, and this is a sequel that I feel can be enjoyed by kids and adults alike, delivering messages that gear towards both. In a year in which we have seen almost every big budget tentpole film pulled from release due to the ongoing pandemic, it is nice to know that there will be at least one or two high profile quality films being released before the year's end.
By: Marc Ferman