The Dentist Collection: Blu-Ray Review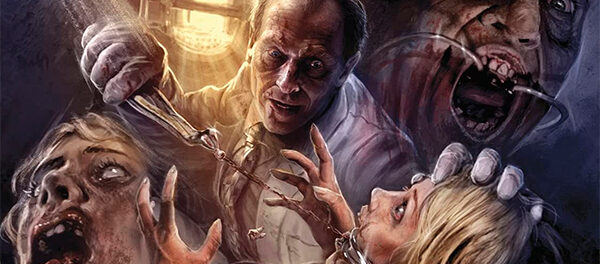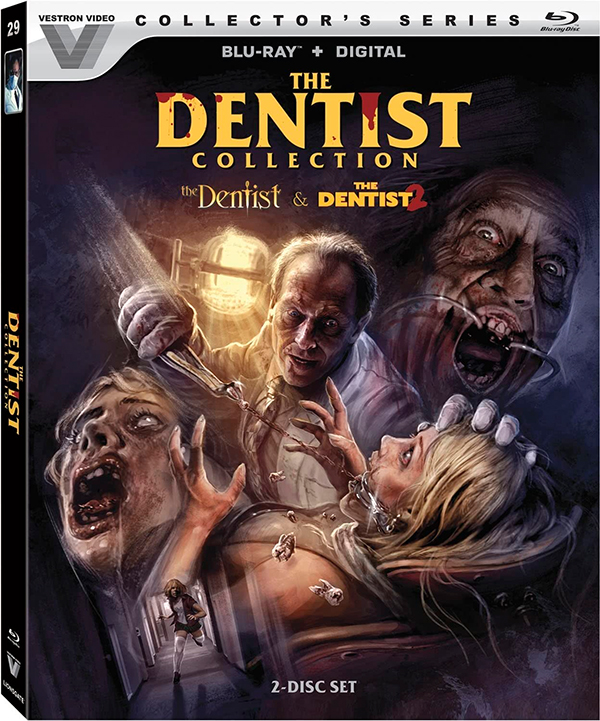 Arriving this week on 2-disk Blu-ray as part of the Vestron Video Collector's Series is Brian Yuzna's The Dentist Collection which includes The Dentist and The Dentist 2. There aren't many horror films that I find myself having to look away from the screen. However, both of these films have multiple sequences in which we get a close-up of the dastardly demented dirty work of Dr. Alan Feinstone (Corbin Bernsen). Many of us hate going to the dentist and these films play on those fears. Neither of The Dentist movies are scary, but they can make us cringe with discomfort. That's one of the things I actually love about Yuzna's work here and the off-the-rails performance from Bernsen just ads to the freakish fun. Also, many people may not know this, but actor Mark Ruffalo made his feature film debut in The Dentist.
1996's The Dentist, centers on Dr. Alan Feinstone, a successful Los Angeles dentist, who has built a strong reputation, has a big home and a beautiful wife named Brooke (Linda Hoffman) at home. After catching his spouse cheating on him with the pool man, the already controlling Alan begins to crack. It starts with Alan killing the dog of one of Brooke's friends. While it seems the doctor would be able to pull himself together at work, it doesn't last long. Soon Alan starts to cause oral harm to his patients. While his staff notices something is not quite right with their boss, the mouth mutilations continue.
Two years later we got The Dentist 2, which opens with Alan escaping from a maximum security mental hospital. He then changes his name to Dr. Lawrence Caine and takes over the only dental practice in the small town of Paradise, Missouri. There he meets Jamie (Jillian McWhirter), a local bank teller/artist whom he rents a small cottage from. The two start to build a relationship, but of course things don't stay sweet for long. To make things even more complicated, the doctor's wife from the first film, Brooke has located him via a private detective and is our for revenge.
Both films are absolutely ridiculous and lack any sense of logic. However, if you can get passed the absurdity of it all, there is a good time to be had. Bernsen goes so over-the-top as the psychotic dentist and it's a joy to behold. I kinda wish the series continued with a third film since things are left open to one.
This is the first time these films have been made available on Blu-ray in the U.S. and the transfers look pretty good, while not great. Both The Dentist 1 & 2 look best during the daytime shots. A perfect example would be the pool location at the doctor's house in the first film. Also, the lively rooms within the doctor's L.A. Practice. There is plenty of gore and thankfully those moments are well-lit. Both films include DTS-HD Master Audio 2.0 which are more than acceptable considering these were basically straight-to-video productions. There are also plenty of special features on each disk that should please the fans. If you love The Dentist, this release is definitely worth picking up.
Special Features:
THE DENTIST:
Audio Commentary with Director Brian Yuzna and Special Makeup Effects Supervisor Anthony C. Ferrante
Isolated Score Selections & Audio Interviews with Composer Alan Howarth and Director of Photography Levie Isaacks
"The Doctor Is Insane" – An Interview with Actor Corbin Bernsen
"Medical Malpractice" – An Interview with Cowriter Dennis Paoli
"Mouths of Madness" – Interviews with Special Makeup Effects Supervisor Anthony C. Ferrante and Makeup Effects Artist J.M. Logan
Trailer
Still Gallery
THE DENTIST 2:
Audio Commentary with Director Brian Yuzna and Special Makeup Effects Supervisor Anthony C. Ferrante
Isolated Score Selections & Audio Interviews with Composer Alan Howarth and Editor Christopher Roth
"Jamie's New Neighbor" – An Interview with Actress Jillian McWhirter
"A Tale of Two Dentists" – An Interview with Producer Pierre David
Mouths of Madness: The Dentist 2 – Interviews with Special Make-Up Effects Supervisor Anthony C. Ferrante and Make-up Effects Artist J.M. Logan
Trailer
Still Gallery
By: Marc Ferman