The Omen Collection (Deluxe Edition): Blu-Ray Review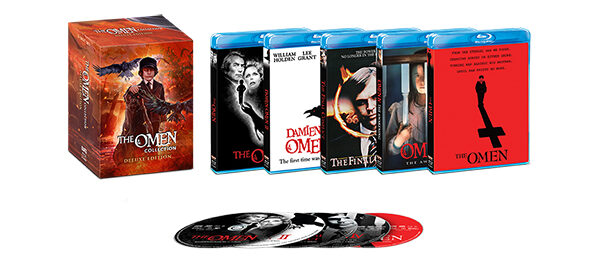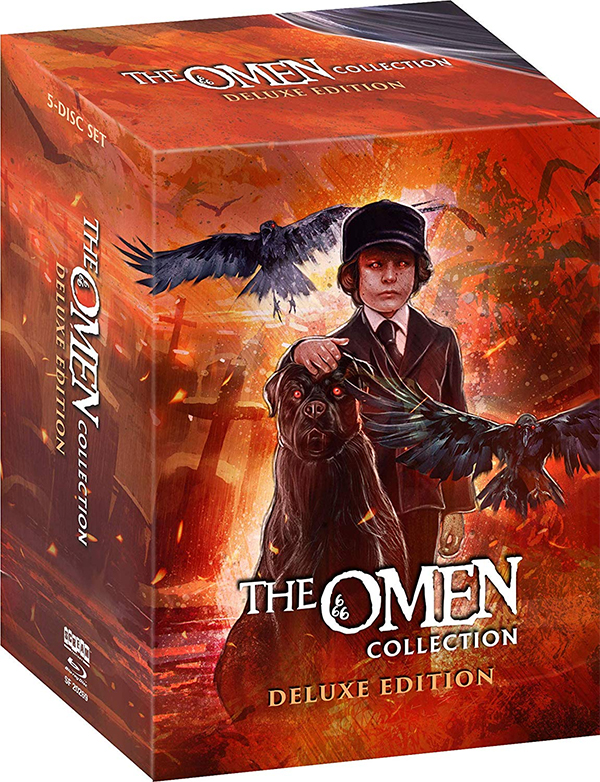 Arriving this week on Blu-ray is the beautifully packaged Deluxe Edition of "The Omen" Collection, courtesy of Scream Factory. Prior to the 1980's, horror franchises weren't a big thing. It wasn't until "Halloween" and "Friday the 13th" spawned multiple sequels that it became a norm in Hollywood. However, in 1976, "The Omen" was a big hit and two years later, the first sequel was released. We would eventually get two more films (one being made-for-TV) and a reboot.  Like many horror franchises, "The Omen" sequels would drop in quality with each subsequent film.
I haven't watched "The Omen" films since I was a child and truthfully, I don't recall ever watching "The Final Conflict" before viewing Scream Factory's set. The new remaster of the original film looks fantastic and should be quite pleasing to the fans. Although the rest of the titles haven't been remastered, they still look quite good, including the very low-budgeted fourth film, which only has a quick reference connecting it to the previous ones. Since the remake is from 2006, it fares pretty, well with the picture and sound quality but, having re-watched it within 48 hours of the original, I was kind-of shocked how much of it is an exact copy instead of a remake. I will probably get some flack for this, but I do feel Live Schreiber was better suited for the role of Robert Thorn than Gregory Peck.  As for the third film, Sam Neill was its' saving grace, I just wish the climax didn't land with a thud.
For fans of the series, Scream Factory's Deluxe Edition is vastly superior to the one released by 20th Century Fox in 2008, based on its' content.  Two of the biggest differences between the releases is that unlike the 2008 set, this new edition includes a new 4K remaster of the original 1976 film and it also includes "Omen IV: The Awakening" for the first time on Blu-ray. Those are two major factors when considering upgrading your collection.  Another major difference is the number of bonus features on the five-disk set.  Although, no new additions have been made for the remake, there are plenty of new features for the first four films, as well as some previously released ones. I may not be a big fan of this series, but for those of you who are, Scream Factory has put out a fantastic set that includes plenty of content to keep you busy for hours.
Bonus Features
DISC ONE: THE OMEN (1976)
4K Transfer From The Original Negative, Approved By Director Richard Donner
NEW The Devil's Word – An Interview With Screenwriter David Seltzer
NEW It's All For You – An Interview With Actress Holly Palance
NEW The Devil's Music – An Interview With Composer Christopher Young Talking About Jerry Goldsmith's Legendary Score
NEW Audio Commentary With Special Project Consultant Scott Michael Bosco
Audio Commentary With Director Richard Donner And Editor Stuart Baird
Audio Commentary With Director Richard Donner And Filmmaker Brian Helgeland
Audio Commentary With Film Historians Lem Dobbs, Nick Redman, And Jeff Bond
Isolated Score Track
Richard Donner On The Omen
The Omen Revelations
Curse Of Coincidence?
666: The Omen Revealed
Screenwriter's Notebook – An Interview With Writer David Seltzer
Introduction With Director Richard Donner (2006)
Deleted Scene With Commentary
An Appreciation – Wes Craven On The Omen
Jerry Goldsmith Discusses The Omen Score
Trailers From Hell Featuring Commentary By Filmmaker Larry Cohen
Theatrical Trailer
TV Spots
Radio Spots
Still Galleries – Behind The Scenes, Movie Stills, Posters, And Lobby Cards
DISC TWO: DAMIEN: OMEN II (1978)
NEW Damien's Guardian – An Interview With Actress Lee Grant
NEW The Devil's CEO – An Interview With Actor Robert Foxworth
NEW The Harbinger – An Interview With Actress Elizabeth Shepard
NEW Elizabeth Shepherd's Scrapbook – A Look At Her Behind The Scenes Photos With Commentary By Elizabeth Shepherd
NEW Audio Commentary With Special Project Consultant Scott Michael Bosco
Audio Commentary With Producer Harvey Bernhard
Vintage Featurette – Power And The Devil: The Making of Damien: Omen II
Theatrical Trailer
TV Spot
Radio Spot
Still Gallery
DISC THREE: OMEN III: THE FINAL CONFLICT (1981)
NEW The Devil In The Detail – An Interview With Director Graham Baker
NEW Resurrecting The Devil – An Interview With Screenwriter/Associate Producer Andrew Birkin
NEW Interview With Production Assistant Jeanne Ferber
NEW Audio Commentary With Special Project Consultant Scott Michael Bosco
Audio Commentary With Director Graham Baker
Theatrical Trailer
TV Spots
Still Gallery
DISC FOUR: OMEN IV: THE AWAKENING (1991)
NEW The Book Of Evil – An Interview With Screenwriter Brian Taggert
Theatrical Trailer
Still Gallery
The Omen Legacy – A Documentary On The Omen films
DISC FIVE: THE OMEN (2006)
Audio Commentary With Director John Moore, Producer Glenn Williamson, And Editor Dan Zimmermann
Unrated Extended Scenes And Extended Ending
Omenisms – Behind The Scenes Of The Omen (2006)
Abbey Road Recording Sessions Featurette
Revelation 666: Behind The Scenes
Theatrical Trailers
By: Marc Ferman