Tremors (Limited Edition): 4K UHD Review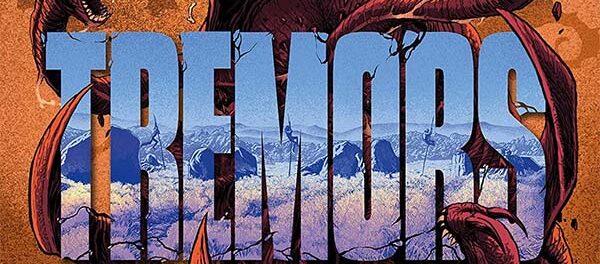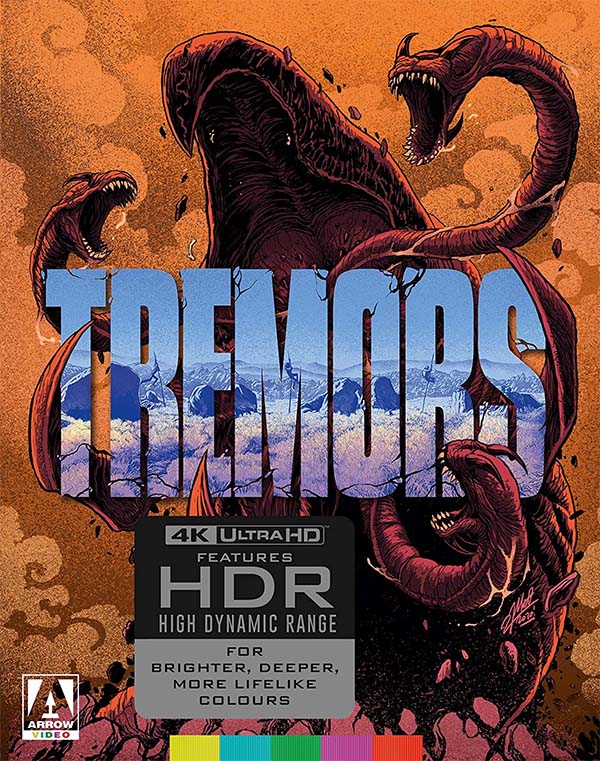 Celebrating its 30th anniversary this year is Ron Underwood's 1990 horror/comedy, Tremors, starring Kevin Bacon, Fred Ward and future franchise leading man, Michael Gross. I will never forget the first time I saw Tremors. I had recently started working as an usher at my local movie theater and back then the projectionist would have to test the 35mm print the night before the film's release after the theater closed. The staff that was working that Thursday night would usually sit in on the late-night Thursday screening. Lucky for me, I had to work that night and even though I had school the next morning, I sat in on the showing as well.  I absolutely loved Tremors and was shocked that hardly anyone was going to see it when it came out. The showings were almost always nearly empty. It's hard to believe that three decades later Universal is still making sequels to the original Tremors (and not a reboot, at least not yet). The original film is the definition of a cult classic and thankfully, Arrow Video has put out a beautifully packaged 4K release worthy of Tremors cult status.
Welcome to Perfection, Nevada, population: between 10-20. The folks of the town live a simple, quiet life with not a whole lot to do. Handymen Valentine McKee (Bacon) and Earl Bass (Ward) are ready to leave Perfection and head to the town of Bixby, hoping to make a better living for themselves. Unfortunately, their relocation plans are cut short when the desert valley that surrounds Perfection becomes overrun with giant man-eating worms. The creatures burrow underground and even though they cannot see, they can sense the slightest vibrations, like footsteps and  speech. There is no way to outrun the graboids (which is what the townsfolk decide to call them) and the only safety can be found by standing on solid matter like a giant boulder.
Along with Valentine and Earl is Rhonda (Finn Carter), a grad student who is in the desert studying seismology, survivalist couple Burt and Heather Gummer (Michael Gross and Reba McEntire respectively) and a few other colorful characters. That right there is one of the things that elevates Tremors above many of the monster B-movies that came before. The characters here are not only well-written but they are mostly quite likeable. Robert Jayne's increasingly annoying Melvin Plug may be the single exception.  Filled with some incredible practical effects and terrific looking creatures, Tremors holds up quite well 30 years later.
Arrow's new 4K scan was taken from the original camera negative and approved by director Ron Underwood and director of photography Alexander Gruszynski. There is a great deal of grain in the picture which helps give it that original print look, but also the High Dynamic Range (HDR) shows off great amount of detail. There are very few bright, vibrant colors as the entire film either takes place in the desert valley or within old, dusty shacks and buildings. The scenery does look quite beautiful, from the desert sand to the bright blue sky.  There are a few different audio options, I went with the original theatrical DTS-HD MA 2.0 stereo.
Tremors has a huge fanbase and they couldn't ask for a better release than what Arrow Video has delivered. If I had one single wish, it would be that Universal would have allowed the unaired pilot for the canceled Kevin Bacon led Tremors series to be included as a bonus feature here. Ahhh, those pesky rights issues. Regardless, this is a fantastic set, packed to the brim with enough bonus content to keep you occupied for hours. I highly recommend grabbing this set.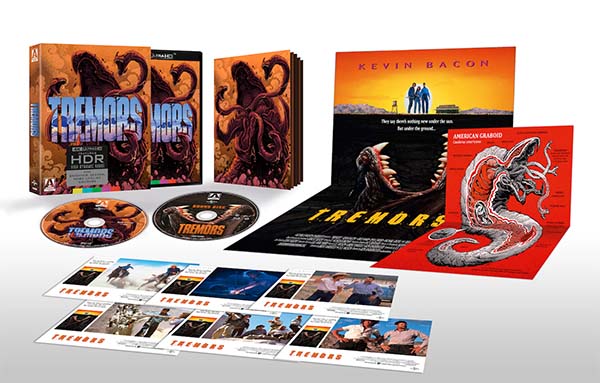 Bonus Materials:
SPECIAL EDITION BLU-RAY CONTENTS
New 4K restoration from the original negative by Arrow Films, approved by director Ron Underwood and director of photography Alexander Gruszynski
60-page perfect-bound book featuring new writing by Kim Newman and Jonathan Melville and selected archive materials
Large fold-out double-sided poster featuring original and newly commissioned artwork by Matt Frank
Small fold-out double-sided poster featuring new Graboid X-ray art by Matt Frank
Six double-sided, postcard-sized lobby card reproduction artcards
Limited Edition packaging with reversible sleeve featuring original and newly commissioned artwork by Matt Frank
DISC 1 – FEATURE & EXTRAS
High Definition Blu-ray (1080p) presentation
Restored DTS-HD MA original theatrical 2.0 stereo, 4.0 surround, and remixed 5.1 surround audio options
Optional English subtitles for the deaf and hard of hearing
New audio commentary by director Ron Underwood and writers/producers Brent Maddock & S.S. Wilson
New audio commentary by Jonathan Melville, author of Seeking Perfection: The Unofficial Guide to Tremors
Making Perfection, a brand new documentary by Universal Studios interviewing key cast and crew from the franchise (including Kevin Bacon, Michael Gross, Ariana Richards, Ron Underwood, among many others) and revisiting the original locations
The Truth About Tremors, a newly filmed interview with co-producer Nancy Roberts on the film's rocky road to the screen
Bad Vibrations, a newly filmed interview with director of photography Alexander Gruszynski
Aftershocks and Other Rumblings, newly filmed on-set stories from associate producer Ellen Collett
Digging in the Dirt, a new featurette interviewing the crews behind the film's extensive visual effects
Music for Graboids, a new featurette on the film's music with composers Ernest Troost and Robert Folk
Pardon My French!, a newly assembled compilation of overdubs from the edited-for television version
The Making of Tremors, an archive documentary from 1995 by Laurent Bouzereau, interviewing the filmmakers and special effects teams
Creature Featurette, an archive compilation of on-set camcorder footage showing the making of the Graboids
Electronic press kit featurette and interviews with Kevin Bacon, Michael Gross and Reba McEntire
Deleted scenes, including the original opening scene
Theatrical trailers, TV and radio spots for the original film as well as trailers for the entire Tremors franchise
Comprehensive image galleries, including rare behind-the-scenes stills, storyboards and two different drafts of the screenplay
DISC 2 – INTERVIEWS & SHORT FILMS (LIMITED EDITION EXCLUSIVE)
Extended hour-long interviews from Making Perfection with Ron Underwood, Brent Maddock, S.S. Wilson, Nancy Roberts and creature designer Alec Gillis
Outtakes with optional introduction and commentary by S.S. Wilson
Three early short films by the makers of Tremors, remastered in high definition, including S.S. Wilson's stop-motion horror/comedy classic Recorded Live (1975)
By: Marc Ferman