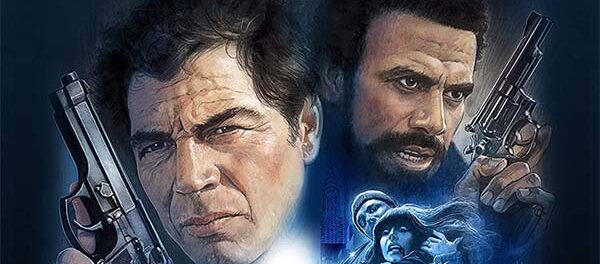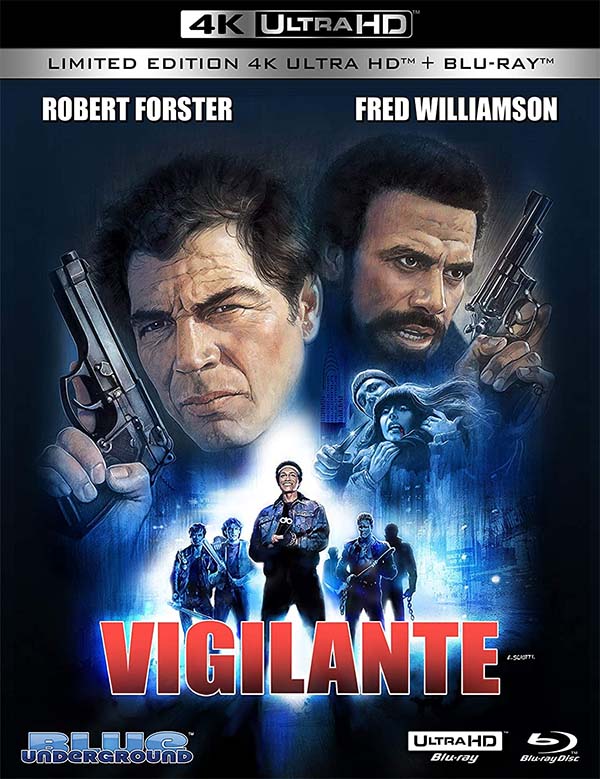 Between 1980's Maniac and 1998's Maniac Cop, genre film producer/director William Lustig gave us Vigilante. Sharing many similarities with Death Wish, Lustig's 1982 crime-thriller never gained the cult status that the other titles mentioned did. That doesn't mean Vigilante is a lesser film. There is quite a bit to admire about the gritty revenge tale and it helps that Robert Forster and Fred Williamson were cast as the leads.
Set in the mean streets of New York, where the violent gangs have the citizens scared to leave their homes at night, a group of factory workers, including Nick (Williamson) and Burke (Richard Bright) take matters into their own hands by beating up drug dealers, rapists, and any bad guy they come across. When their co-worker Eddie (Forster) comes home one night to find out his son has been murdered and his wife badly, beaten by one of these gangs, he decides to let the law handle it. Unfortunately, the gang leader, Rico (Willie Colón) it let off the hook by the judge and Eddie's hostile reaction in court gets him a month in jail for contempt. Because the justice system failed him and his family, Eddie turns to Nick and decides to seek his own justice.
I have always dug Vigilante. To me, it may not be as good as the first two Death Wish movies, but it is just as entertaining as any of later sequels of that series.  Blue Underground's new restoration has been scanned in 4K 16-bit from the original 35mm camera negative, with Dolby Vision HDR and Dolby Atmos audio. For a film that is nearly four decades out, this movie looks absolutely, stunning. Although I have reviewed past Blu-ray releases from the company, Vigilante is the first of their 4K releases I have seen. The film grain is definitely apparent and helps give Vigilante that original look but also the details are so crisp and clear. In one scene in which Nick is chasing down one of the gang members though an empty public pool area which is completely covered in graffiti and tags. Being able to see the street art clearly from the distance during a wide shot is just a great example of how fantastic this restoration is. Same goes for the streets of Brooklyn in the daytime during a car chase in the film's final act.
There are multiple options for the film's audio. I went with the DTS-HD Master Audio 5.1. From the sounds of the streets, like a train passing from overhead or the gunfire and cars in the action sequences and of course the music, everything sounded quite clean. For fans of gritty action/exploitation films of the era, I highly recommend picking up the 4K UHD of Vigilante. It may not be my favorite Lustig film (Maniac Cop 2 gets that honor), but it is still a pretty, solid piece of gerne filmmaking.
BONUS FEATURES:
Audio Commentary #1 with Co-Producer/Director William Lustig and Co-Producer Andrew Garroni
Audio Commentary #2 with Co-Producer/Director William Lustig and Stars Robert Forster, Fred Williamson and Frank Pesce
NEW! Audio Commentary #3 with Film Historians Troy Howarth and Nathaniel Thompson
NEW! Blue Collar DEATH WISH – Interviews with Writer Richard Vetere, Star Rutanya Alda, Associate Producer/First A.D./Actor Randy Jurgensen, and others
NEW! Urban Western – Interview with Composer Jay Chattaway
Theatrical Trailers
TV Spots
Radio Spot
Promotional Reel
Poster & Still Galleries
BONUS! Collectible Booklet with new essay by Michael Gingold
By: Marc Ferman