12 Monkeys (Special Edition): 4K UHD Review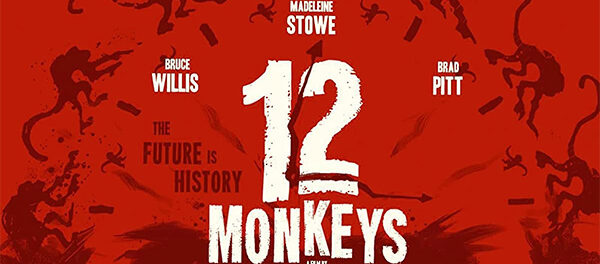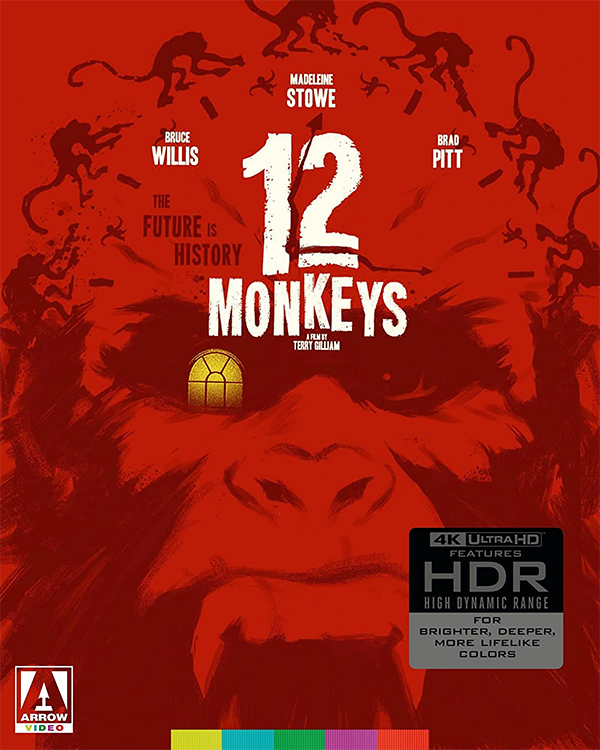 A few years ago, Arrow released a Special Edition Blu-ray of the 1995 sci-fi classic, 12 Monkeys. While it was a 4K restoration, the Blu-ray was 1080p. That disk looked great but the full 2160p presentation looks outstanding. The original 35mm camera negative was used for this transfer and approved by director Terry Gilliam.
For those of you who have never seen the Terry Gilliam film, the story follows James Cole (Bruce Willis), a prisoner in the future, who is offered a full pardon if he volunteers to travel back in time to collect information that could help the scientists develop a cure for the man-made virus that wiped out most of the human population. He is not supposed to stop the virus from being released, but just gather information.
Cole does make it back in time, but he arrives in 1990 instead of 1996, which is when he was supposed to arrive. With his mind pretty much swiss cheesed, Cole is arrested and sent to an asylum. All the doctors think he is a nut case, but Dr. Kathryn Railly (Madeline Stowe) believes there might be more to Cole than what everyone else can see. Cole does get set free from the asylum and eventually gets to 1996, which is when the army of the 12 Monkeys let loose the virus. It turns out that fellow asylum patient Jeffrey Goines (Brad Pitt) is the one behind the evil plan. Yep, there is quite a bit of time travel mumbo jumbo here, but the film is so unique and entertaining, that I have no problem just going with it. Bruce Willis gives what I consider one of his best performances and Brad Pitt stole every scene he was in.
The audio remains the same as Arrow's previous Blu-ray, and I have absolutely no issues with that.  The DTS-HD Master Audio 5.1 is more than fine. However, where this release surpasses the Blu-ray is the Dolby Vision 2160p transfer. Gilliam has always been a unique filmmaker and his vision usually lends itself well to an impressive HD upgrade. Even though 12 Monkeys has a grittier look than many of the filmmaker's more notable features, it still showcases a unique world in different timelines that come off wonderfully in true 4K.
Bonus Materials
Brand new restoration from a 4K scan of the original negative by Arrow Films, approved by director Terry Gilliam
4K (2160p) UHD Blu-ray presentation in Dolby Vision (HDR10 compatible)
Lossless DTS-HD Master Audio 5.1 and 2.0 stereo soundtracks
Optional English subtitles for the deaf and hard of hearing
Audio commentary by Terry Gilliam and producer Charles Roven
The Hamster Factor and Other Tales of Twelve Monkeys, feature-length making-of documentary by Keith Fulton and Louis Pepe (Lost in La Mancha)
The Film Exchange with Terry Gilliam, a 1996 interview with Gilliam and critic Jonathan Romney, recorded at the London Film Festival
Appreciation by Ian Christie, author of Gilliam on Gilliam
The Twelve Monkeys Archives
Theatrical trailer
Reversible sleeve featuring original and newly commissioned artwork by Gary Pullin
FIRST PRESSING ONLY: Illustrated collector's booklet featuring writing on the film by Nathan Rabin and Ian Christie
By: Marc Ferman
Portions of this review were taken from Arrow's prior Blu-ray release.