Candyman (Collector's Edition): 4K UHD Review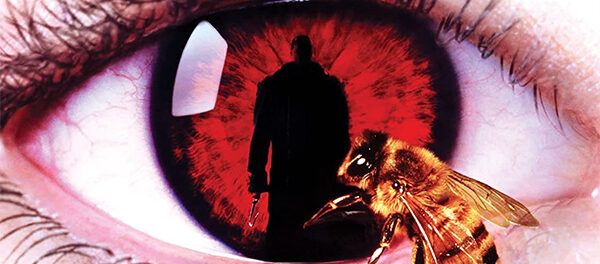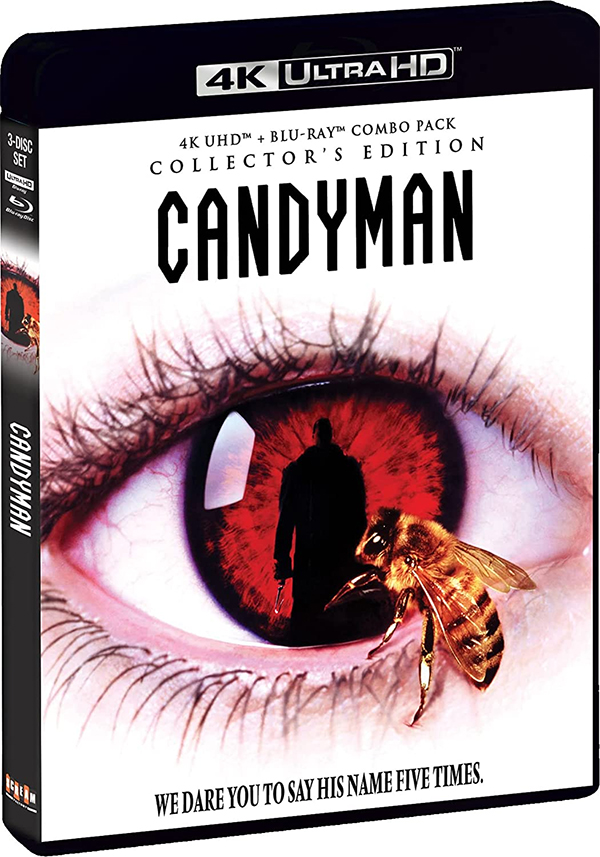 Available this week on Collector's Edition 4K UHD is Bernard Rose's Candyman.  Based on Clive Barker's short story, The Forbidden. The 1992 classic delivered one of the greatest horror icons around, Candyman (A wonderfully sinister performance by Tony Todd). The deep-voiced haunting figure is right up there with Freddy, Jason and Michael Myers, but unlike the others there is a much deeper motivation for the terror he causes. This puts Candyman in a league of his own.
Considered by many, one of the best horror films to come out of the 90's, Candyman holds up quite well more three decades later and feels just as relevant today as it did in the early 90's. I always loved the urban setting, much like that of the original Child's Play.  Chicago just felt absolutely, right.  I am also a huge supporter of gory kills when they are part of an effective chiller like this one.
In 2018 I was extremely impressed with Shout! Factory's Collector's Edition Blu-ray which was a 2K restoration taken from the 4K scan of the original negative. Now, that 4K scan that was supervised and approved by writer/director Bernard Rose and director of photography Anthony B. Richmond has been given a 2160p Dolby Vision transfer with HDR10. There is no urgency to upgrade from their 2018 disk as that release still looks fantastic. However, for those who have never picked up the Collector's Blu-ray, the new 4K UHD has some noticeable improvements. As I mentioned before, I love the urban Chicago setting and the locations absolutely pop in this transfer. From the ariel shots used in the film's opening credits to the graffiti drenched locations of the Cabrini-Green Projects, the world of Candyman has never looked more vibrant. Each of the many close-ups of Virginia Madsen's face look incredible. The detail is perfect. The flipside to that, is when she gets burned in the end of the film, we can clearly see some of the make-up edges. Still, I am thrilled with the addition of Dolby Vision.
Another new addition is the Dolby Atmos track which like the Dolby Vision, is included on the Theatrical and Unrated cuts of the film. With this release, the audio upgrade is actually more impressive than the video. What I mean by that is this. The 2018 Blu-ray looked great and the new 4K looks great, with more of a slight improvement. Yet, the Dolby Atmos track is a more noticeable upgrade. If you are fan of Candyman, then you know how amazing the Philip Glass score is. Well, when you hear it with the Atmos track, is absolutely sings.  Tony Todd's voice is an Iconic one and it ads to the atmosphere of the film. We don't heat a lot of dialogue from Candyman but when he does speak, it rumbles and travels.
Bonus Features:
DISC ONE (4K UHD — THEATRICAL & UNRATED CUTS):
NEW 4K Master Of The Original Negative, Supervised And Approved By Writer/Director Bernard Rose And Director Of Photography Anthony B. Richmond (Theatrical Cut) By Arrow Video
NEW 4K UHD Presentation In Dolby Vision (HDR10 Compatible) Of Both Cuts Of The Film, The Theatrical R-rated Version And The Unrated Version Featuring Alternate, More Graphic Footage, Presented Via Seamless Branching
NEW Dolby Atmos Track
Audio Commentary With Writer/Director Bernard Rose And Actor Tony Todd (Theatrical Cut)
Audio Commentary With Authors/Film Historians Stephen Jones And Kim Newman (Theatrical Cut)
Theatrical Trailer
DISC TWO (BLU-RAY — THEATRICAL CUT):
NEW Dolby Atmos Track
Audio Commentary With Writer/Director Bernard Rose And Actor Tony Todd
Audio Commentary With Authors/Film Historians Stephen Jones And Kim Newman
Audio Commentary With Bernard Rose, Author Clive Barker, Producer Alan Poul And Actors Tony Todd, Virginia Madsen And Kasi Lemmons
Audio Commentary With Bernard Rose, From The Movie Crypt Podcast Hosted By Filmmakers Adam Green And Joe Lynch
Sweets To The Sweet: The Candyman Mythos – Featuring Interviews With Bernard Rose, Producer Alan Poul, Executive Producer Clive Barker, Actors Virginia Madsen, Tony Todd And Kasi Lemmons
Clive Barker: Raising Hell – An Interview With Author/Artist/Filmmaker Clive Barker
The Heart Of Candyman – An Interview With Actor Tony Todd
Bernard Rose's Storyboards
Theatrical Trailer
TV Spots
Still Gallery
Screenplay (BD-ROM)
DISC THREE (BLU-RAY — UNRATED CUT):
NEW Dolby Atmos Track
NEW Looking Back In The Mirror – An Interview With Actress Vanessa Williams
Be My Victim – An Interview With Tony Todd
It Was Always You, Helen – An Interview With Actress Virginia Madsen
Reflection In The Mirror – An Interview With Actress Kasi Lemmons
A Kid In Candyman – An Interview With Actor DeJuan Guy
The Writing On The Wall: The Production Design Of Candyman – An Interview With Production Designer Jane Ann Stewart
Forbidden Flesh: The Makeup FX Of Candyman – Including Interviews With Special Makeup Effects Artists Bob Keen, Gary J. Tunnicliffe And Mark Coulier
A Story To Tell: Clive Barker's The Forbidden – Writer Douglas E. Winter On Clive Barker's Seminal Books Of Blood And Candyman's Source Story, The Forbidden
Urban Legend: Unwrapping Candyman – A Critical Analysis Of The Film With Writers Tananarive Due And Steven Barnes
By: Marc Ferman