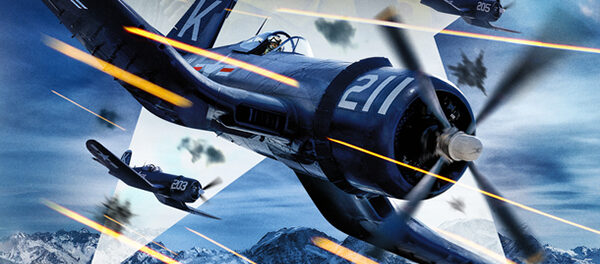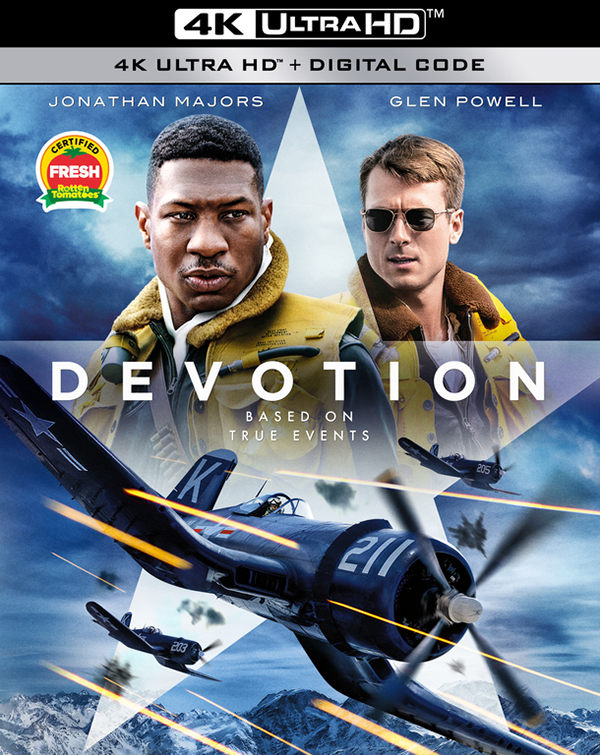 Arriving this week on 4K UHD is director J.D. Dillard's Devotion, starring Jonathan Majors and Glen Powell. The film is based on the 2015 book, Devotion: An Epic Story of Heroism, Friendship, and Sacrifice by Adam Makos and focuses of navel officers Jesse Brown (Majors) and Tom Hudner (Powell) and their friendship during the Korean War. Powell, was last seen as a fighter pilot in Top Gun: Maverik just last year. Unfortunately, where that movie was a box office beast, Devotion struggled to find an audience during its' theatrical run. This is a shame too, because despite being a biographical war film, it is also a highly entertaining piece of cinema.
In the early 1950's Lieutenant Tom Hudner transferred to the Quonset Point Naval Air Station and joins up with Fighter Squadron 32. Along with the rest of the pilots, Tom meets Ensign Jesse Brown, who is the sole African American member of the unit. It isn't long after Hudner and Brown are paired together that they become friends. Jesse is very different than the rest of his squad. He doesn't drink or smoke and he also has a wife and daughter at home that means the world to him. Tom on the other hand is completely single, doesn't like to pass up a good time and likes to fly a little loose with the rules.
What surprised me the most about Devotion is that the character elements are just as engaging as the plane sequences. When the unit is given shore leave in Cannes, France, Jesse runs into movie star Elizabeth Taylor and she invites him and his friends to a ritzy casino. There are some altercations with members of other units, but that is the least interesting thing going on here. When it comes down to it, this is Majors and Powell's film and they have great chemistry. The rest of the cast, which includes Joe Jonas and Daren Kagasoff are also good.
Devotion doesn't skimp on the action either. This is a $90 million movie after all. The ariel shots with the fighter planes looks absolutely stunning in 4K and if you have a nice audio/video setup at home, this film will look fantastic.  If you are a fan of war films or just like a good action/drama, I highly recommend Devotion.
By: Marc Ferman