The Nutcracker and the Four Realms: Movie Review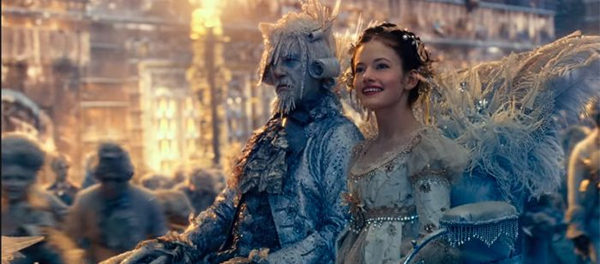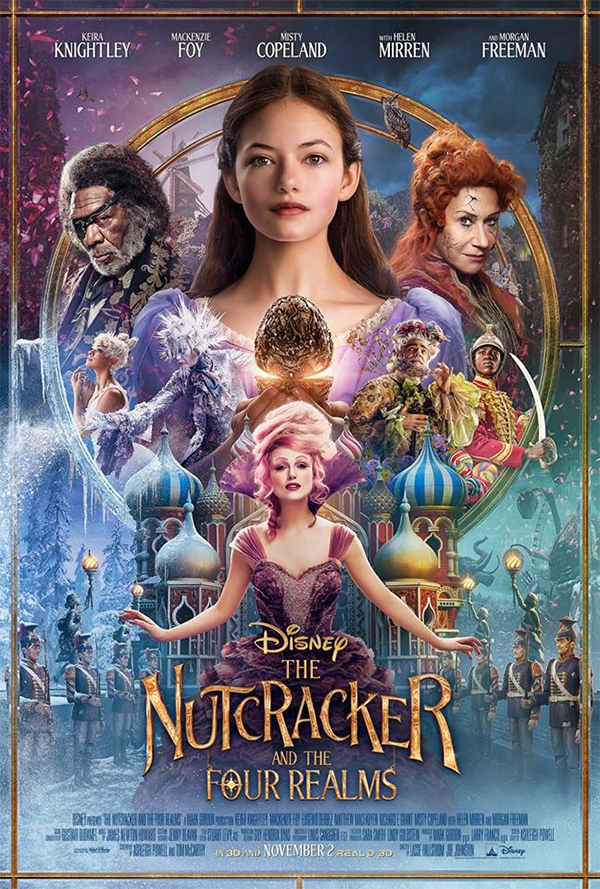 Growing up, "The Nutcracker" never had any great appeal to me. Sure, I had seen numerous versions of the classic story, even that 1993 feature with Macaulay Culkin. "The Nutcracker and the Four Realms" is unlike any of the others because this time around, it is not a ballet. You can say I lack culture, but I couldn't imagine anything more, dull than watching a feature length ballet. Well, it turns out that a ballet-free version of "The Nutcracker" can be just as uninteresting (and annoying). "Four Realms" is a big budget fantasy that lacks substance and heart. Any time it tries to deliver something resembling emotion, it fails miserably.
After the passing of her mother, young Clara Stahlbaum(Mackenzie Foy) has hidden herself away from the world, spending time in her attic, working on inventions.  Her father (Matthew Macfadyen), her brother Fritz (Tom Sweet) and her sister Louise (Ellie Bamber) are all having a hard time, especially during Christmas. Clara feels like she is the one who is having the hardest time dealing with it though. Before her passing, Mrs. Stahlbaum left a Christmas gift for each of her children. Clara's was an egg-shaped creation that needed a key to be opened.  Realizing that the egg was created by her godfather, Drosselmeyer (Morgan Freeman) she asks him for the key. Little does she know that he will be sending her on a journey to another realm.
It turns out that Clara's mother was the queen of this world and that makes her the princess. There are four realms, each one presided over by their regents. The Land of Sweets is presided over by Sugar Plum (Keira Knightley), Hawthorne presides over the Land of Flowers and Shiver (Richard E. Grant) has the land of Snowflakes. The regents are taken by surprise when learning of their queen's passing, but they believe a greater threat is afoot with the tyrant Mother Ginger (Helen Mirren), who has the key that Clara seeks.
"Four Realms" is plagued with so many problems, it is hard to pinpoint which is the most damaging. One major issue is that there is not a single interesting character here. I am not sure how one goes about making Helen Mirren boring, but they pull it off here. Knightley who can usually charm audiences delivers what has-to-be one of the most annoying performances of the year. The voice she uses for Sugar Plum made me want to cover my ears. There is little chemistry between Clara and her new nutcracker friend Philip (Jayden Fowora-Knight), the comic-relief nutcracker guards do not successfully deliver a single funny line, and finally the twist in the story is completely predictable. I could forgive many of these if "Four Realms" was even the least bit interesting, which it's not.
There is no denying that Disney is the king of the box office.  They have the Marvel, Star Wars and Pixar films.  However, they may be focusing more on quantity than quality.  With box-office busts like "Solo" and "A Winkle in Time" (which was also a critical failure) and a string of live action adaptations of "Dumbo", "Aladdin", and "The Lion King" (all set to be released over the next year), they could have a difficult time maintaining the quality.  "Four Realms" also could have suffered from poor direction. Lasse Hallström ("A Dog's Purpose") initially shot the film but Joe Johnston ("Captain America: The First Avenger) was brought in for reshoots. With a lack of quality family films in theaters right now, I truthfully wanted "Four Realms" to work. Hopefully there will be better selections for your family over the holiday season.
By: Marc Ferman